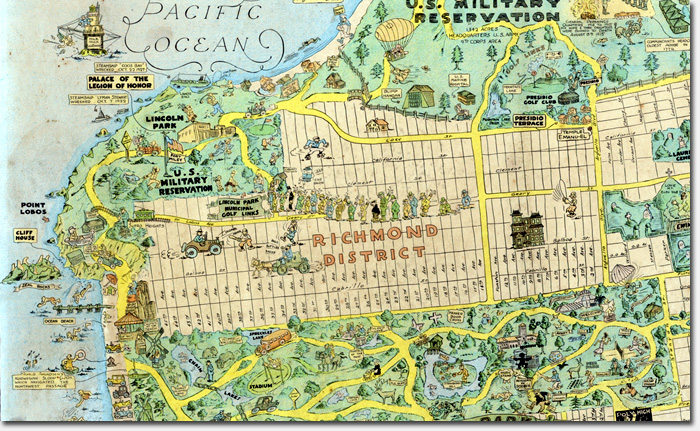 Click to enlarge
Bold Italic shared this fun cartoon map of San Francisco from 1927, made by artist Harrison Godwin (aka William Harrison Godwin). The map was originally designed for tourists but it's also fun for locals to see what was called out in 1927.
In it, a group of men are lined up to play the Lincoln Golf Course, and the shipwrecks off of Land's End are marked (steamships Lyman Stewart in 1922 and Coos Bay in 1927). The map also shows the Mile Rock lighthouse in its full splendor, complete with the caretaker's residence on top of it.
The Lurline Pier, which used to carry water from the Pacific all the way to downtown saltwater pools, is pictured on the north end of Ocean Beach with divers jumping off it. And a tourist is perched atop Sutro Heights Park taking pictures over the Cliff House. A man waves his arm atop a rollercoaster at Playland.
There are a couple of head-scratchers that some history buffs may be able to shed light on. Around Anza and 33rd Avenue two figures are playing baseball which may be a reference to the area around what is now George Washington High School (the high school didn't open until 1936). And around California and 29th Avenue, a man, perhaps a sailor, is on rollerskates.
And not far from what is now the Landmark Apartments just inside the 15th Avenue Presidio gate is a Blimp Hangar. Say what? There's also a Victorian house plopped down at 9th Avenue and Balboa; we're not sure what that is.
UPDATE: Historian John Freeman provided some more explanation on the Presidio hangar: "There was a short-lived experiment by the Coast Artillery to send spotters up in tethered balloons to communicate with the shore batteries about how accurate their projectiles landed in the water during target practice. The westerly winds and bobbing gondolas that made the spotters sea sick caused the project to be abandoned. The balloons were stored in a hanger at the open lot off Lincoln Blvd., east of the 25th Ave. entrance, later converted to the army motor pool."
John also had some insight into the "rag man with his horse and wagon tooling through the Richmond": "I can even remember seeing and hearing him calling out "rags, bottles, sacks" as he traveled up and down the streets. I don't think the junk man was limited to just this neighborhood, but as a kid, that was my world. I don't know if you would have known when he's come by your block, but I can see housewives running out to his wagon with their "recycling" and I receiving a few coins for their saved discard. The garbagemen did separate recyclables on their truck to make coffee money, but the "rag, bottles. sack" man actually paid a small amount when he came by. The practice was greatly curtailed during WWII when everyone was doing recycling "for the war effort", with metal being the highest priority. The Boy Scouts were the primary labor force and were organized to help people bring out their recycling, pile it in front of homes, and toss it on the truck when it came down the block."
Godwin does a nice job of spotlighting Golden Gate Park, picturing the bison, a pole vaulter at the Polo Fields, a man picking fruit on Stow Lake's Strawberry Hill, and various figures reclining around the park reading or snoozing.
The map is available as a print up to 50″ in size, and can be cropped to feature your favorite part of the city.
In un-internet fashion, we couldn't find much online about the artist, Harrison Godwin, other than "Born in New Jersey on March 21, 1899. By 1930 Godwin had settled in Carmel. He died there on Jan. 11, 1984″ (askart.com). Godwin also created similar tourist maps for places like Hollywood, CA.
Sarah B.
4:35 am | Posted under
History
|
13 comments