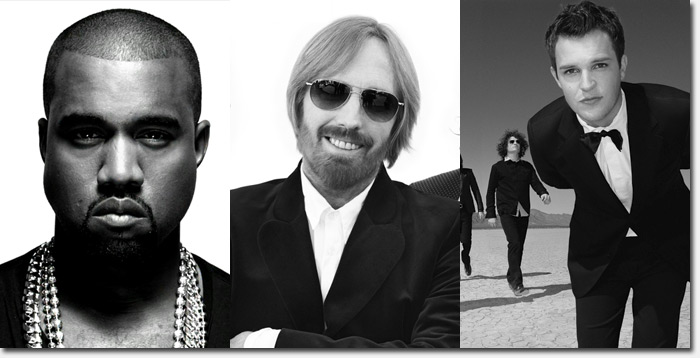 The 2014 lineup for Outside Lands features L to R: Kanye West, Tom Petty and the Killers.
This morning, Another Planet Entertainment finally announced the much-anticipated lineup for the 2014 Outside Lands Music Festival in Golden Gate Park, which takes place August 8-10.
Rumors had been circulating about possible headliners like Bruce Springsteen (new album out! he needs west coast dates!), D'Angelo (who had to cancel last year's appearance), the Avett Brothers (who last played OSL in 2008) and even hat-wearing Pharell. But alas, none of them are in the final lineup, though this year's list is nothing to sneeze at and contains the usual assortment of rock, electronic, funk and indie artists.
Headlining the 2014 festival is hip-hop artist Mr. Kim Kardashian aka Yeezus Kanye West, rock legends Tom Petty and the Heartbreakers, and Las Vegas rockers The Killers.
Secondary headliners include thrift-shop specialists Macklemore & Ryan Lewis, Arctic Monkeys, EDM favorite Tiesto, Death Cab for Cutie and Flaming Lips.
70 bands in all will perform during the 3-day festival, which takes place in several areas of Golden Gate Park including the Polo Fields, Hellman Hollow and Lindley Meadow. Last year's festival drew 65,000 concertgoers per day.
Organizers have not released the festival schedule yet, so we don't know who plays on which day yet. But that's intentional as they're trying to sell 3-day passes.
Outside Lands 2014 3-day passes go on sale this Thursday at 10am via Ticketmaster. Prices are $255 – $275 for regular passes, $595 for VIP which includes exclusive access to viewing areas, access to the Polo Lounge, special restroom facilities and other goodies.
Single day tickets will go on sale at a later date.
Who's in?!
Sarah B.
6:46 pm | Posted under
Events
,
Golden Gate Park
,
Live Music
|
11 comments