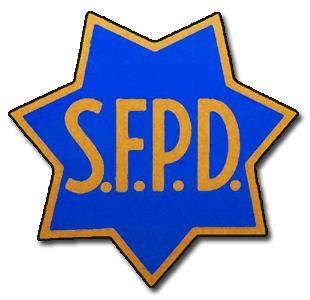 [Reprinted from The Richmond Police Station Newsletter of September 20, 2013. To be added to the station's mailing list, email sfpd.richmond.station@sfgov.org.]
CAPTAIN SHARON FERRIGNO'S MESSAGE
Officers from Richmond Station did an amazing job capturing armed robbers. We arrested a subject wanted in connection with numerous robberies and shortly thereafter arrested 4 subjects, armed with a gun and wanted for robbery. Yesterday, Investigators identified 4 subjects wanted for numerous burglaries throughout San Francisco. Officers from Richmond Station arrested 3 subjects and recovered property associated with many thefts. Richmond Stations officer's attention to duty and tenacious crime fighting really paid off this week.
NOTEWORTHY ARRESTS
On 09/19/2013 Richmond Station personnel responded to an address in the tenderloin which was revealed during the course of an ongoing investigation. At the address indicated officers were able to contact 3 people regarding this investigation. They were able to recover and remove over 100 items from the location. These items included bicycles, cameras, musical instruments etc… As a result of this investigation Richmond Station officers were able to arrest and charge these 3 individuals with multiple felonies.
On 09/12/2013, at 8:55 pm officers responded to Divisadero and Jackson St. in response to a reported street robbery. Dispatch advised responding officers of the description and that the subjects were armed with a black pistol. Officers saturated the area and started a systematic search for the culprits. Officers Schor and Dun observed a white vehicle fail to stop at a posted stop sign on Broderick Street. The officers determined that due to the proximity of this incident to the reported robbery there was a possibility of a connection between them. The officers initiated a felony traffic stop on the vehicle and found a firearm in plain view within the vehicle. Multiple other units responded to assist during this incident and due to fantastic police work they were able arrest 4 while recovering narcotics and a firearm. The initial victim in this incident was not injured.
On 09/16/2013, at 6:05 pm Richmond Plain clothes were conducting a vehicle burglary abatement operation in the area of the Great Highway. They observed a vehicle with expired registration pull in at the Ocean Beach parking lot near stairwell 20. They contacted 4 individuals who were in the vehicle and on further investigation discovered narcotics. Officers discovered 2 sets of scales normally used to measure out quantities of narcotics for sale. One was arrested, one was cited for the above violations.
On 09/17/2013, at 1:44 am officers were conducting their normal patrol function in the area of 8th Ave. and Fulton St. The officers contacted an individual who was identified as having 2 warrants issued for his arrest. The individual was booked and later transported to the County Jail.
On 09/19/2013, at 1:47 am officers responded to a reported vehicle collision in the area of 39th Ave. and Fulton St. On arrival at the scene SFFD personnel were in the process of rendering aid to parties at the scene. The driver was discovered to be driving the vehicle with no license issued. Further investigation revealed that the driver was operating his vehicle while intoxicated. After medical treatment at San Francisco General Hospital the driver was medically cleared and released into the custody of the officers. The driver was booked at the County jail on multiple charges.
NOTEWORTHY INCIDENTS
On 09/18/2013, at 11:10 am officers responded to a report of a bomb threat at 32nd Ave. and Clement. Officers escorted all the occupants of the store at the location to a safe area. After securing the scene and making the proper notifications they then returned and conducted a walkthrough of the store and surrounding area. Officers determined that the threat made at the location was a hoax and there was no merit to this incident. It should be noted that there was a similar incident in the Northern District at the same time which also was shown to have no merit.
5:12 pm | Posted under
Crime
|
1 comment