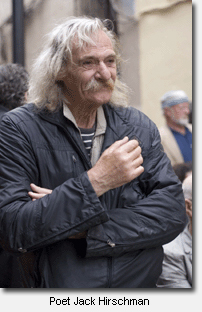 RichmondSFBlog reader Janna alerted me to a city-wide contest called Poets 11. So named because the contest calls for poems from every neighborhood and features readings at branch libraries in each of the City's 11 districts.
Now in its third year, Poets 11 celebrates San Francisco's rich literary life and thriving poetry community. It's organized by Friends of the San Francisco Public Library and their Poet-in-Residence Jack Hirschman, together with the San Francisco Public Library.
Local poets are encouraged to submit up to three poems. Poetry is chosen by Hirschman and selected poets are announced at each of the branch events. All types of poetry are accepted. Writings which reflect San Francisco's diversity of language and culture and those written in languages other than English are highly encouraged.
Need some inspiration or instruction? Check out the Richmond Library's "Everyone is a Poet" program this Wednesday night from 6-7:30pm. The workshop offers fun and easy ways to create poetry and to nurture the poet within. Llimited to 25 participants; to register, call 355-5600.
Here's your chance to represent the Richmond! If you're a poet and you know it (or don't), get all the info you need at the Poets 11 website.
Sarah B.
12:54 pm | Posted under
Art
,
Events
|
Comments Off