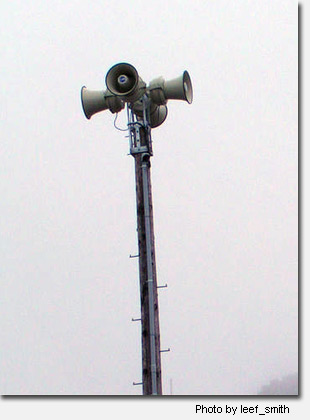 RichmondSFBlog reader Eric wrote in and asked:
Do you know anything about the new pole at 21st Avenue and Geary? At least I think it's new. It's very tall and has what looks like megaphones pointing in each of the cardinal directions.
After some research and help from my cub reporter David, I found out that it's called an Outdoor Public Warning System (OPWS) siren. It is designed to alert residents and visitors of San Francisco about possible danger. According to the OPWS website, there are 86 sirens which are located on poles and on top of buildings throughout all neighborhoods in San Francisco, Treasure Island, and Yerba Buena.
There are several in the Richmond District along Fulton at 11th, 25th, 32nd and 39th, plus at California & Funston, 100 El Camino del Mar, 32nd & Anza, Balboa & Great Highway, Merrie Way & Point Lobos, and Beach Chalet. See the full city map of OPWS sirens.
The system is tested at noon every Tuesday for 15 seconds, and it sounds similar to an emergency vehicle siren. In the event of a disaster, the 15 second alert tone sounds repeatedly for 5 minutes. David tells me that the sirens can be triggered individually, in groups, or all at once depending on the emergency. For example the sirens on El Camino del Mar and along the Great Highway are in place specifically for coastal and tsunami dangers.
David also filled me on some interesting facts and history about the siren system:
There is a group of volunteer radio folks that listen each week and call in to a central spot to let the city know which ones are working and which ones aren't . The new system was installed due to the activism of the Fisherman's Wharf neighborhood association. They went to the city with a photo of the siren at the wharf leaning at an angle and kept up until the modern system we have became a reality.
In the 60's of course they were for telling you time is up we are having a nuclear war. Before that, massive siren units sat on tops of buildings (some are still up there) driven by v8 auto engines. They put out so much energy that you of course would be deafened and materials within 5 feet of the speakers would catch fire.
Thanks to Eric for sending in the question and to David for all the info. Below is a very brief documentary about the system, sent in by Greg over at NJudah Chronicles.
Sarah B.
6:45 pm | Posted under
Community
,
Safety
|
8 comments