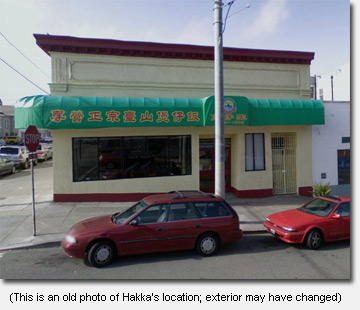 Earlier this year, Hakka Restaurant replaced the Taishan Cafe out on Cabrillo. Yesterday the Examiner reviewed Hakka, which serves Chinese food that is similar to Cantonese style, "though simpler, humbler and even more focused on the freshness of ingredients".
The name Hakka comes from the Chinese people that settled in the southern, mountainous areas of Jiangxi, Fujian and Guangdong provinces.
Reviewer Patricia Unterman had good things to say about Hakka's deep-fried pumpkin strips, a favorite on the menu.
"Platters of deep-fried pumpkin strips coated with salted egg ($6.95) appeared on every table. [Chef Li Jin Hiu] told me that it is a dish from his village. We're lucky it traveled here. Small tender slices of kabocha squash get a crisp, salty, gritty crust that whispers of anchovy — it's the salted egg."
Unterman also praised the Salt-baked chicken, another specialty of the house. She says "the meat is moist, chewy and essentially chickeny" and "the breast pieces of this chicken had exceptional character. The skin, though golden brown, isn't crisp but adds unctuousness, the way butter does on bread."
She called Hakka's sautéed Chinese broccoli with rice wine "one of the best vegetable dishes in town, period" and closed by saying, "The freshness of the food matches the freshly painted dining room where a spirit of generosity pervades. Deep in the Richmond district, the homey, friendly Hakka Restaurant distinguishes itself with heartfelt cooking."
Read the full review at sfexaminer.com
Hakka Restaurant is located at 4401-A Cabrillo Street at 45th Avenue (876-6898) and are open 11am-9:30pm Monday through Thursday, and 11am-10pm Friday through Sunday.
Have you eaten at Hakka? Tell us what you thought of your meal in the comments.
Sarah B.
11:14 am | Posted under
Food
|
1 comment