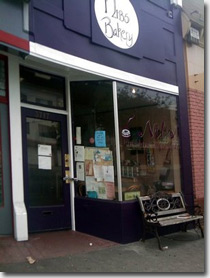 Recently, outer Richmond resident Brian McGowan decided to forego his usual stop at Simply Pleasures Cafe on Balboa and instead tried Nibs Bakery & Cafe, located a few blocks down at 3717 Balboa (near 38th).
Brian writes that Nibs "has excellent scones, pastries, and coffee" and that "the scones are usually fresh and warm right out of the oven."
He also praised the coffee, which is from a local artisan roastery. "The coffee that they sell is from Due Torri Coffee. They have 4-5 different flavours (blends, whatever) from which to choose. I had the Ethiopian today. It is a medium-roast, but was actually very strong and full of flavour."
Brian says that Nibs is also dog-friendly but you'll have to catch their tasty scones in the AM only. Nibs is only open for breakfast seven days a week.
Last Wednesday night, SFWeekly was wet from the rain and in the mood for Korean BBQ, so they headed to Brother's Korean at 4014 Geary near 5th Avenue. They passed on the grill-it-yourself options and instead ordered up a variety of menu items.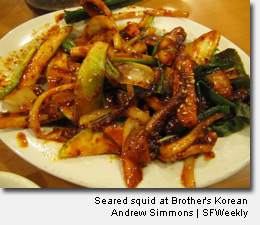 "…short ribs, or kalbi ($23.95), spicy crab soup with tofu and glass noodles ($11.95), and rice sizzled in a stone pot with beef, vegetables, and raw egg ($17.95). Between lettuce-wrapped morsels of grilled beef, alternately chewy and tender, we sucked down nibbles from the eagerly anticipated banchan array ? including kimchi of cucumbers, cabbage, and radish, miso paste, tiny dried fish, seaweed, and limp fried tofu."
But the evening's topper was an entrée of seared squid with green onion spears, mushrooms, and zucchini half-circles slicked with a robust red sauce heavy on chile paste and sesame, which the reviewer says "was sweet, slightly smoky, with just enough bite."
Sarah B.
6:30 am | Posted under
Food
|
4 comments