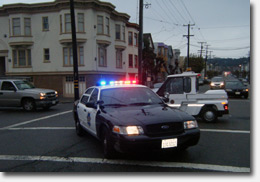 A bicyclist was severely injured this morning around 7:30am when they collided with a school bus at the intersection of California Street and 24th Avenue.
The cyclist was taken to SF General Hospital and the CHP was called to the scene to conduct an investigation due to the school bus involvement.
The bus was believed to be headed to Alamo Elementary on 23rd Avenue. The students on board were shaken up but so far, no injuries reported.
KTVU.com reports that the bicyclist struck a side mirror on the bus and was knocked to the ground.
Thanks to RichmondSFBlog reader Dave for the report and photo. If I hear more, I'll be sure to update you.
UPDATE: Foxreno.com(?) reports that the biker is Tony Felix Gallard, a 24-year old man from France. Gallard suffered a fractured right clavicle and laceration to his head after being clipped by the small school bus' right side mirror. They confirmed that none of the six students on the bus were injured.
Sarah B.
9:35 am | Posted under
News
|
4 comments