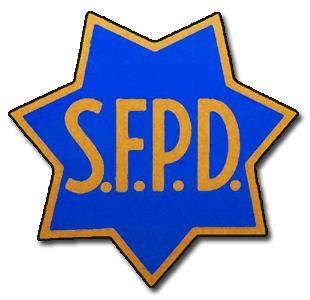 [Reprinted from The Richmond Police Station Newsletter of January 15, 2010. To be added to the station's mailing list, email sfpd.richmond.station@sfgov.org or visit their website.]
CAPTAIN RICHARD CORREIA'S MESSAGE
In the early evening on December 29, 2009 a sixty year old Richmond District Resident was getting out of his car after pulling into his garage on the 100 Block of 9th Avenue. Suddenly he was set upon by a suspect who struck him several times, causing serious facial wounds and lacerations. The suspect demanded the victim's personal possessions and then fled, leaving the victim in the garage bleeding profusely.
Richmond Station officers responded immediately and commenced their initial investigation. Moments after the first uniformed officers arrived at the scene an Inspector from the Station's newly created investigative team responded to the scene and commenced a formal follow-up investigation. Members of the Station's plain-clothes unit or "35 Team" saturated the area looking for the suspect and evidence.
This crime was particularly shocking even to the most experienced of officers because of the seriousness of the injuries and suspect's compassionless actions and abusive assault. The suspect was able to make good his escape along with the victim's personal property. The victim was rushed to a near-by hospital by ambulance.
In the first few days after the incident our police team members and their supervisors followed up relentlessly on what little evidence that they had and canvassed an expanding area for witnesses. It's when leads seem to be few that experience and tenacity count the most. Couple these traits with commitment to service and you have investigators that will as we say in police statistical world: Clear the Case.
As you know I am somewhat limited in what information I can release when a case is under investigation, and this is sound policy. However, when you are as inspired as I am by the superlative work of Richmond Station's investigators it's a little difficult to lower the volume. I can tell you that an arrest has been made and I will keep you posted on the case as it progresses in court.
Between the time of the incident and the arrest of the suspect our officers used every investigative tool at their disposal. They crawled about on the wet ground and in bushes looking for clues, they did stakeouts, served search warrants and they sought out help from investigators from other districts. They watched and they waited. They worked the computer databases and they followed up on every lead, even ones that were long shots. Some of their endeavors were just simple low-tech traditional police practices. Others, however, would have been considered science fiction just a few years ago. We had help from the private sector and our crime lab's work in this case would make a CSI episode seem boring. Our Hall of Justice investigative support teams were with us every step of the way. The District Attorney's Office provided guidance to our investigators as the investigation progressed.
At the end of today we have a safer community because one very dangerous predator is in custody charged with multiple violent felonies, including robbery, burglary, aggravated assault, assault resulting in serious bodily injury and possession of stolen property. Bail is set at $400,000.
The successes here also validate the recent reorganization that placed investigators in each district station. We now have investigators where we need them, when we need them. The officers at Richmond Station have moved on to their next case but before they did we took a moment to acknowledge them for a job well done and for choosing a career for which they are well suited.
I am delighted to work with police officers such those that handled this case and to live in the District that they protect.
During the past week, there were 16 traffic accidents, 8 involving injuries. There were 5 citations issued for driving without a license or driving on a suspended license. There were 2 arrests for driving under the influence.
NOTEWORTHY ARRESTS
On 01/10/10 at 2:00pm on the 400 block of 9th Avenue a tenant of an apartment building went into the laundry room on the bottom floor. She saw a male in the laundry room and realized he was not a tenant. She also saw that he was wearing her son's shoes. She ran out towards the street and the police were called by a neighbor. The male exited and climbed over the back fence and made his way to 9th Avenue and Geary, where he was located by officers and charged with burglary and possession of stolen property.
NOTEWORTHY INCIDENTS
Between 01/08/10 at 6:00pm and 01/09/10 at 9:00am on the 700 block of 3rd Avenue a suspect gained entry into a garage and took two bicycles and a purse. There were no signs of forced entry.
On 01/09/10 between 1:10pm and 4:40pm a suspect took two bikes that were locked in front of the Academy of Sciences.
On 01/10/10 at 1:15pm, a victim was sitting in his vehicle parked at Scott and Pacific. The suspect entered the passenger door and pointed a gun at the victim demanding his money. The suspect then ordered the victim to drive, all the while striking the victim and demanding money. At some point the suspect ordered the victim to pull over and switch places and the suspect eventually pushed the victim out of the vehicle on Highway 280. A CHP officer located the victim and he was transported to a local hospital. The suspect was described as a male 30-40 wearing a black jacket and black pants. The vehicle is still outstanding.
On 01/10/10 between 5:30pm and 11:30pm on the 2000 block of Pierce Street a suspect gained entry into a garage and broke into two vehicles parked inside. The suspect took a GPS and paperwork from the vehicles. There were no signs of forced entry.
On 01/11/10 at 12:25am a victim came out to her vehicle which was parked on the 700 block of 39th Avenue. She saw that the driver's seat was on fire and extinguished the flames. There was also property taken from the vehicle.
Between 01/12/10 at 5:45 and 01/13/10 at 8:00am on the 700 block of 23rd Avenue, a suspect gained entry into a home under construction and took several tools.
On 01/14/10 at 2:40am on the 500 block of 6th Avenue, a victim was walking home when he was approached by two males. Both suspects were armed with knifes and demanded the victims property. The victim complied and the suspects fled eastbound Anza. They were described as males, 25-30 years of age, wearing dark colored sweatshirts and pants. The victim was uninjured.
4:47 pm | Posted under
Crime
|
3 comments