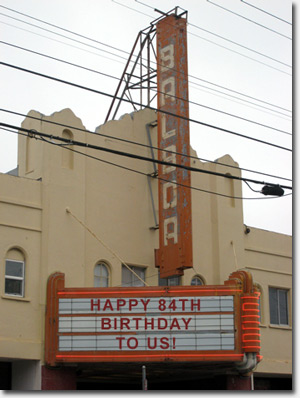 This Sunday, The Balboa Theater will celebrate its 84th birthday with a special show of old films, a live vaudeville show, prizes and of course, birthday cake.
After kicking off with the premiere of a delightful new silent short filmed at the Balboa, Double Features, watch the 1926 film The Cat and the Canary, which has been called "the finest spooky house movie ever made." It's a suspenseful mystery about an heiress who is provided with a large inheritance, as long as she is deemed sane. When the estate lawyer disappears, things begin to unravel.
The birthday party will also include a live vaudeville show with magician James Hamilton and singer Linda Kosut. Jack Tillmany will also be at the event, signing and selling copies of his books on the theatres of San Francisco and Oakland.
Sunday's party and show will be dedicated to the memory of theater owner Irma Levin, who died a few weeks ago. Chronicle columnist Leah Garchik had this to say about the film lover:
Levin and her husband founded the San Francisco International Film Festival, and – I'm picturing her, lively, smart, beautifully dressed in clothes she'd always sewn herself, at a film festival event at Tiffany a few years ago – she was one of the grand old ladies of San Francisco.
The show starts at 7pm on Sunday. Tickets are $10; purchase them in advance here. Happy Birthday to the Balboa!
Read more about The Balboa's history
Sarah B.
6:30 am | Posted under
Events
,
History
,
Movies
|
1 comment