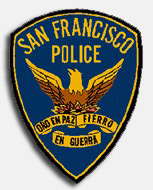 On Tuesday afternoon from 1-2pm, the Richmond District Police Department will hold a Community Relations Forum meeting.
Neighbors are invited to join Captain Richard Correia and his department to discuss public safety issues and learn about community safety programs. This meeting will focus on the Richmond Station's beat, traffic, homeless outreach, and school officers.
The meeting will be held at the Zephyr Cafe at 3643 Balboa Street. For more information, contact Officer Connolly at 666-8000 or Irina Chatsova at 553-1968.
I'd like to be able to attend meetings like this. But when they're scheduled in the middle of the workday, it seems only unemployed or retired residents can attend.
Sarah B.
10:18 pm | Posted under
Events
|
Comments Off