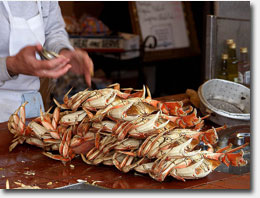 Grubstreet published a handy list of places in the city to buy Dungeness crab for less. This is one of my favorite meals so I was excited when a market near my house made the list.
Wing Hing Seafood Market at Clement and 7th made the list with a price of $3.66 per pound (the lowest was $2.99 in the Mission). The one catch is that you gotta buy 'em alive.
I'm guessing they will put the crab out of its misery for you at time of purchase, or you can take them home, writhing in your grocery bag, and do it yourself. How fresh is fresh enough?
Not sure how to kill a crab with mercy? Check out the guy in the video below who spent his summer in Alaska doing just that, day after day. No narration necessary. Or check out this video, which is more of a step-by-step guide on how to clean and crack.
And if you would like to bond with your crab a bit before they depart, bone up on how to identify your crab's gender and gross anatomy. Just so you know whether to refer to your tasty meal as John or Jane.

Sarah B.
3:35 pm | Posted under
Food
|
Comments Off