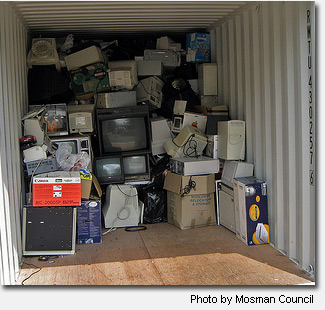 Time to gather up all those old electronics that are gathering dust…
This Saturday, March 20, sfcleancity.com will host a free electronic recycling drop-off at Ocean Beach. Drop off free of charge any of the following items:
– TVs and monitors
– Computers and laptops
– Scanners and printers
– Cell phones
– Fax machines
– Ethernet cables
– Telephones and telephone systems
– VCRs, DVD players
– All networking equipment (e.g. routers)
Note that no appliances or microwaves will be accepted.
Drop off your e-waste between 9am and 2pm on Saturday at the Ocean Beach parking lot across from the Beach Chalet restaurant near Fulton. You must have a valid California driver's license or ID card.
If you miss this Saturday's event, there will be another e-waste drop-off available on Saturday, March 27 at Lake Merced. More info here.
Sarah B.
6:19 pm | Posted under
Green
|
Comments Off