Next Sunday, the off-ramp on northbound Doyle Drive to southbound Park Presidio/Highway 1 will begin its long-term closure as part of the Presidio Parkway development project. The ramp is expected to be closed through 2013.
That means if you're accustomed to taking the off-ramp shortcut to the Richmond District when coming from Lombard Street or the Marina, you'll have to find a different route. Here's a detour map from the Presidio Parkway project team. One route they suggest ("Last Chance Detour") is going one exit further and getting off just before the toll plaza, driving underneath it, then getting back on Doyle Drive southbound and taking the Park Presidio/Hwy 1 exit.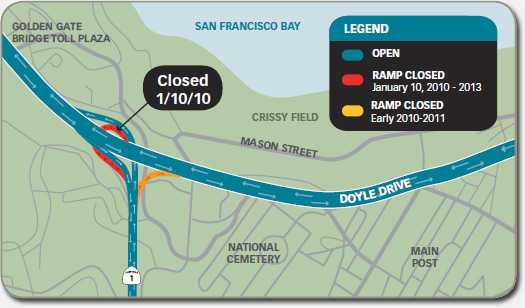 In addition, the other off-ramp from northbound Park Presidio/Highway 1 (from 19th Avenue) to southbound Doyle Drive is expected to close in early 2010. However it's anticipated that its closure will not last as long.
For more information on the Presidio Parkway project, visit presidioparkway.org.
Sarah B.
6:07 am | Posted under
Traffic
|
1 comment