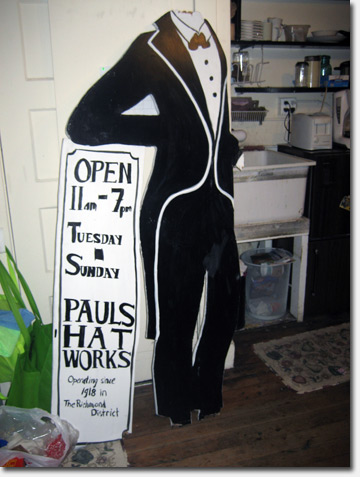 This is almost as disturbing as the case of Thomas the Hippopotamus…
Paul's Hats was taken over last year by four young women who are on a mission to "bring the hat back". Part of their mission includes great window displays and a unique, 7-foot wooden statue of a man in a top hat and tails that welcomes visitors outside the 100+ year old shop.
Unfortunately, the tall man has some dastardly admirers. Last month, someone tried to steal him so the ladies put him back into place, securing him with chains and bolts. Not content to leave the man in peace, someone then came and broke off his hand and snatched it away.
Recently, there was another skirmish between scoundrels and the wooden man. Paul's describes the fiery incident on their blog:
…he was knocked down, knocking his head off and breaking the whole man off the base. As the culprits ran off, our good neighbor shot off his gun in the air twice, and they dropped the man but took the head.
That reads like a scene from the Wild West! I can only imagine the Richmond police responding to that call…
Sadly, the tall man's head (and top hat!!) has not been returned and as you can see from the picture, it's a disturbing and sad sight.
The Pauls, as they call themselves, are offering a reward for the return of the head and hat. If you have any clues, call them at 221-5332 or email them at howdy@hatworksbypaul.com.
Special thanks to The Pauls for the pics.
Sarah B.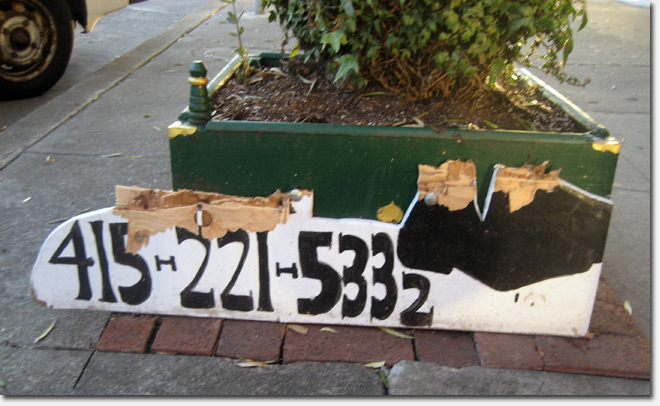 5:24 pm | Posted under
Crime
|
Comments Off