The SF Examiner reports today that SFMTA has finally decided on a location for the new 2 Clement terminal. This is the spot where the bus parks and idles before heading back downtown.
As you may recall, the upcoming MUNI cuts will result in the 2 Clement no longer traveling all the way out to 33rd Avenue, and instead, turning around at Park Presidio. As a result, the MTA has been in discussions with neighbors in the area about the best route for the turnaround and location for the new terminal. The public meetings have been heated as residents from Funston, 14th and 15th Avenues expressed their concerns about the turnaround and terminal creating traffic clogs, safety hazards for pedestrians, and a reduction in parking spaces.
Nevertheless, a decision had to be made. MUNI will experiment with a six month trial of the bus turning left on Park Presidio, right on Geary, and then right onto 15th Avenue. It will then turn back onto Clement Street, with the terminal being located on the southern side of Clement street near 14th Avenue (see the red circle in the map below).
According to the Examiner article, "Muni planning officials said they will monitor the situation of the 2-Clement, and reevaluate the route after the six-month pilot has expired." It's unclear when this new route will take effect.
UPDATE: Streetsblog reports that after the 6 month trial, the Clement Street stretch of the 2-Clement may be moved to California Street, with the line being converted to an electric trolley bus service. Get all the details here.
Sarah B.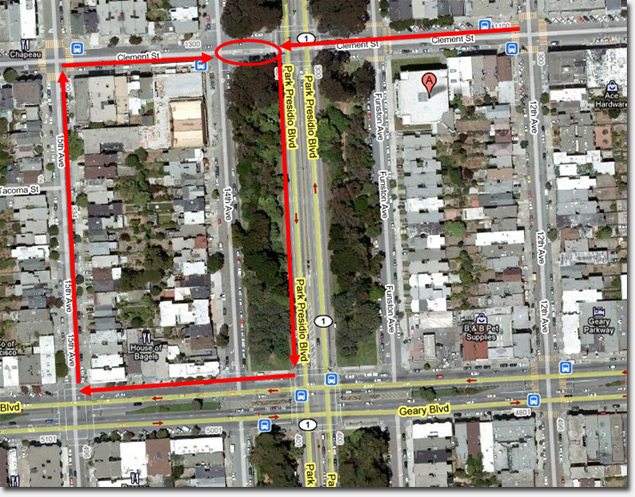 The new turnaround and terminal for the shortened 2 Clement route.

11:07 am | Posted under
Muni
|
9 comments