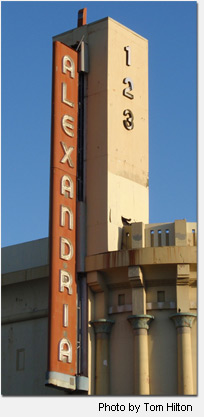 Supervisor Eric Mar spoke to SFAppeal about some of the plans that have been brewing for the old theater. He said there are designs to install an expansive restaurant and supper club inside the building.
"My understanding in the latest proposal is that they have plans to maintain some of the art deco features in the exterior and the interior. The 8,000 square foot restaurant [they're planning] is not to interfere with any of the murals," Mar told SFAppeal.
The Supervisor also said he'd like to see some of the space used for non-profits, and ensure the inclusion of affordable housing in the residential units that are still planned for the back parking lot. His goal is to have 15% of the units designated as affordable housing.
When asked why it's taken so long – six years – for the Alexandria project to move forward, Supervisor Mar replied, "I'll just say we have patience with our city departments. But this is one of our priorities."
Mar is also planning to investigate securing landmark or structure of merit status for the building, which first opened in 1923 and was built by prominent San Francisco architects the Reid Brothers.
The article also states that the environmental review for the project is nearly complete and that they are moving toward publication of the Mitigated Negative Declaration, which once released, is open to public comment.
Read the full story at SFAppeal
So what do you think of the plan to put a restaurant/supper club in the space?
Sarah B.
5:03 pm | Posted under
Eric Mar
,
Real Estate
|
3 comments