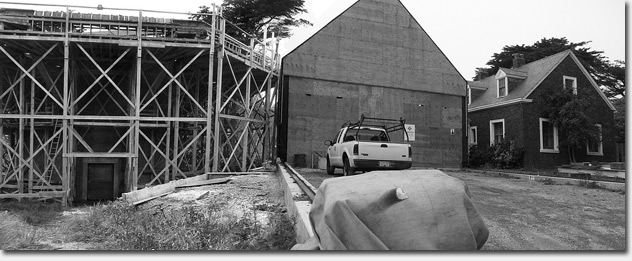 Millwright Cottage in Golden Gate Park (far right).

If you were out at Sunday Streets recently or like to wander Golden Gate Park, you've likely come across the South Windmill that is being restored at the west end of the park.
Sitting in the shadow of the great windmill is a delightful caretaker's house, known as Millwright Cottage. Built in 1909 and designated a landmark in 1999, the 2,200 square foot cottage was utilized as a caretaker residence up until 2003.
Since then, like it's towering neighbor, the cottage has been vacant while undergoing renovations. When it's complete, the city wants to turn it into a full-service restaurant.
In a Request for Qualifications (RFQ) issued by Rec and Park last month, they state "that the Cottage be adaptively reused as a restaurant or other food concession that highlights San Francisco's emergence as a global leader in the healthy, sustainable and locally grown food movements". No pressure, restaurateurs, no pressure.
Despite the renovations that are currently taking place, the cottage is not restaurant ready. So the city is looking for a partner that can make the needed improvements for opening. In exchange, the city is offering at least a ten year lease.
Oh, and the restaurant will have to "display education information about Golden Gate Park's historical windmills". I can already envision the page in the menu…
The city is conducting a pre-submittal conference and tour on September 28, 11am at the cottage. Applications are then due October 9. The lease will commence in Summer 2010.
So, what kind of restaurant do you think would fit in well in this cozy corner of Golden Gate Park?
Sarah B.
[via Eater SF]
9:50 pm | Posted under
Business
,
Food
,
Golden Gate Park
|
1 comment