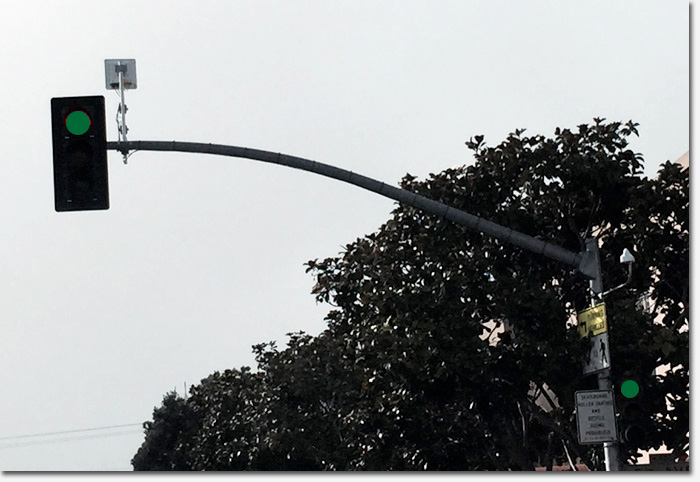 Back in November, we told you about a new tracking system that SFMTA was installing on Geary to improve the flow of Muni buses.
You may have noticed the Proxim Radio sensors that are perched on Geary stoplights. The GPS devices are designed to keep lights green when a Muni bus is approaching. The system also has the ability to make red lights shorter based on the presence of a bus.
The end goal is to speed up bus service along the corridor.
But the new system is having a strange effect on some drivers, who find themselves braking to a stop at intersections when the light is still green.
The reason? They have become reliant on the pedestrian countdown displays.
"I thought I was seeing things, and started to drive oddly as I would slow down after seeing that the pedestrian countdown ended, but the green light doesn't change to yellow right away as most lights do, I felt like I was a Student Driver again. :)," reader J. told us in an email.
J. is not alone. We have done the same thing multiple times, looking to the pedestrian countdown as an indicator for when the light will be turning yellow, and then red.
As the countdown reaches 1 or 0, drivers are understandably preparing to stop to avoid running the light. But as they stop, the light remains a full green even though the pedestrian countdown shows a Don't Walk signal.
The good news is that this is "safe" behavior, but does make for a confusing driving experience (and the potential for getting rear-ended).
Is anyone else experiencing this? Leave a comment to let us know.
Sarah B.
Some feedback from readers:
@richmondsfblog I have seen people do this – very confusing, thanks for the background!

— Byron Philhour (@bphilhour) February 17, 2015
@richmondsfblog that explains it! I've had weird instances of even just walking & the lights change oddly I guess due to traffic.

— Diana (@iheartinsulin38) February 17, 2015
Totally, this is such BS and someone is going to get killed "social engineering" @richmondsfblog

— cfMC FEROX (@cfmceroz) February 17, 2015
@bphilhour @richmondsfblog Funny how it's the safe drivers who are confused.

— Brian L. Grieb (@blgrieb) February 17, 2015
11:24 am | Posted under
Traffic
|
27 comments