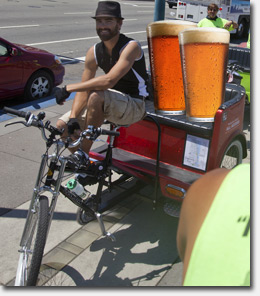 As part of SF Beer Week, there is a special beer tour event in the Inner Richmond this Wednesday night.
Called the Inner Richmond Pedi Cab Craft Beer Tour, the event includes five beer-serving stops in the neighborhood: 540 Club, Chomp N' Swig, Buckshot, Q Restaurant, and Healthy Spirits.
The pedi cab part of the event comes in between venues. Hop on one to make your way safely to the next destination in the beer tour. Organizer Ben Mansell of 540 Club says there are 7 confirmed cabs for the event, possibly more by Wednesday night.
Each location will have its own Beer Week festivities going on, plus brewery showcases and great eats.
540 Club will have a selection of Nitro beers from Deschutes Brewing Company (Red Chair), Buckshot is promoting beers from the New Belgian Brewing Company (Fat Tire), Q Restaurant is hosting a Marin Brewing Company tap take over, and Chomp N Swig is creating a "SoCal Night" with Green Flash Brewery of San Diego (Palate Wrecker) and Cistamontane Brewing.
And while you can't sample or drink at Healthy Spirits, you can make it your last stop to shop one of the largest and highest quality beer selections in the neighborhood.
The beer tour runs from 7pm until 11pm. Pedi cabs are provided free by Cabrio Taxi but tipping is encouraged!
Sarah B.
11:30 am | Posted under
Events
|
3 comments