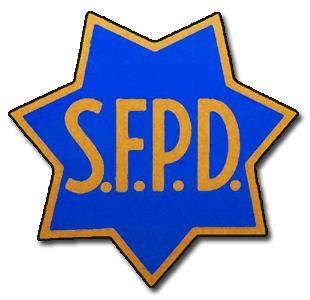 [Reprinted from The Richmond Police Station Newsletter of February 28, 2014. To be added to the station's mailing list, email sfpd.richmond.station@sfgov.org.]
CAPTAIN SIMON SILVERMAN'S MESSAGE
In San Francisco, a bike is stolen every three hours and there has been a 70% increase in bicycle theft since 2006. The SFPD has a warehouse filled with hundreds of recovered bikes, most of which were probably stolen, but we have no way of returning these bikes to their owners because many people don't keep a record of their serial numbers and don't register their bikes.
To combat this problem, San Francisco SAFE and the SFPD have just started a bike registration program. By going to the Safe Bikes website, you can register your bike, upload a copy of your purchase receipt and also upload photos of your bike. Then, if your bike is ever stolen, there is a much greater chance that it can be returned to you.
The Safe Bikes website has tips on how best to lock your bike including diagrams and videos. In general, you should lock the rear wheel with a U-lock that also goes through the rear triangle of the bike frame. The lock should be attached to a solid, immovable object. You should use a second lock (preferably another U-lock) to lock up the front wheel. You can also use a cable or chain to lock the saddle, however chain and cable locks are easier to cut than U-locks. You might also consider replacing the quick release skewers on the wheels and seat post with locking skewers.
In the Richmond District, a lot of bikes are stolen out of garages. It's a good idea to lock your bike when it's in the garage the same way that you would lock it when it's out in public. To reduce your chances of theft from your garage, make sure that all of your garage doors are closed and locked and avoid putting valuable items by a window.
Safe Bikes is hosting an upcoming bike theft prevention workshop in March. You can register for this workshop on their website and if you are one of the first 45 people to bring in your old cable style bike lock, you can trade it for a brand new U-lock.
We have some more handouts on locking your bike and on bike safety, so ride by Richmond Station and pick one up.
Our next Community meeting will be held on Tuesday, March 18, 2014 at 6pm. It will be in the Community Room, here at Richmond Station, 461 6th Ave.
NOTEWORTHY ARRESTS
On 02/23/14 at 11pm, an officer was conducting traffic at the intersection of 25th and California due to a large power outage in the Richmond District. The officer's vehicle had all of its lights on, including the over head light bar. The officer had also set out flares all around the intersection to help control traffic and avoid a potential collision. The officer observed a vehicle traveling south on 25th approaching California and it did not appear to be braking for the intersection, which became a 4 way stop when the light went out. The officer pointed his flashlight at the vehicle and yelled several times for the driver to stop. The driver passed the officer at approximately 20mph and looked directly at him. The vehicle then revved its engine and sped up, continuing south. The officer got into his vehicle and conducted a traffic stop at Geary and 25th Ave. When he approached the vehicle he could smell marijuana emanating from within. Both the driver and passenger admitted to having oxycodone in their possession however neither had a prescription. The passenger had numerous Xanax pills, again without a prescription. Officers detained both occupants for the violation. Along with ammunition, officers located heroin, an M-80 explosive and a large amount of marijuana. The two suspects, both 22yrs, were charged with narcotic violations.
On 02/24/14 at 11:55pm, officers responded to the area of the Atalaya Terrace, off of Fulton St on a report of two males casing vehicles and houses. A description was provided by the caller and the officer located the suspect at Fulton and Masonic. The officer, who recognized the male and knew he was on probation, detained him along with another subject that had joined him. The initial suspect was clear of all warrants and a probation search was conducted and he was clear of any contraband. The second male was also on probation and found to be in possession of a glass pipe and a spark plug. Spark plugs are commonly used by auto burglars to break the windows on cars. Both males have extensive history for burglary, auto burglary and narcotic violations. The second male, 20yrs old was charged with possession of narcotic paraphernalia, burglary tools and a probation violation.
On 02/27/14 at 12:45pm, officers received a call of suspicious male possibly dealing narcotics from a vehicle in the area of 16th and Balboa. Plainclothes officers responded and located the male in the vehicle. The suspect was intent on looking down onto something on his lap and did not see or hear the officers approach. When the officer got to the driver's door he could see that the suspect was looking at a baggie of marijuana. When the officer announced himself to the driver was startled and tried to hide the bag. They had the male exit the vehicle and on the floorboard saw another large baggie of marijuana. They located a scale and cash in the vehicle. There was also another large baggie in a box of clothing. The 23yr old male was charged with possession of marijuana for sales.
NOTEWORTHY INCIDENTS
Between 02/22/14, 6pm and 02/24/2014, 7am on the 2900 block of Jackson St, a suspect entered a home under construction. The suspect kicked a window and although the glass did not break the frame gave way allowing access. There was no loss as all items are removed at the end of the work day.
Between 02/25/14, 8pm and 02/26/14, 7:30am on the 800 block of 47th Ave, a suspect entered a garage and took a bike. Entry was made through an unlocked rear door.
On 02/26/14 at 8:20pm on the 500 block of 25th Ave, a porta-potty was set on fire. Melted plastic from the structure landed on a car that was parked nearby.
On 02/27/14 at 1pm, the victim left her home on the 400 block of 17th Ave and went for a walk in Golden Gate Park. She parked her car near the Conservatory of Flowers and when she returned to her car she saw that her center console was open and her garage remote was missing. She went home and saw that a laptop and computer were now missing from her home. It is believed that the suspect entered the home with the remote as there were no signs of forced entry.
9:46 pm | Posted under
Crime
|
1 comment