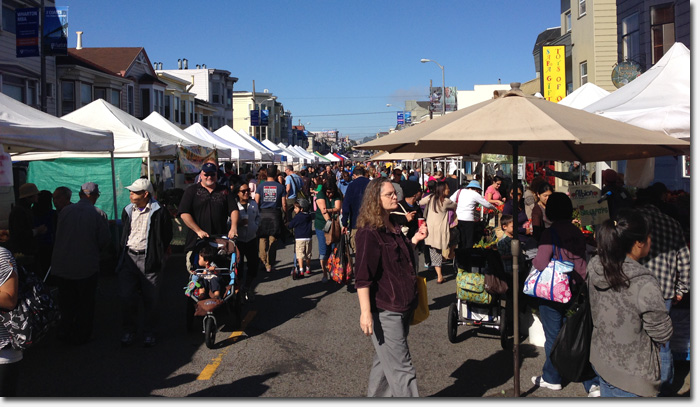 Ever since its debut on June 23, 2013, the Clement Street Farmer's Market has been a favorite stop for residents on Sunday mornings to pick up fresh, organic foods and mingle with neighbors.
The market runs on Clement Street from 2nd Avenue to 4th Avenue every Sunday from 9am until 2pm, closing off both blocks to cars (including parking). Attendance is routinely high, even on foggy days that the Richmond District is known for. Vendors often sell out of their wares by market close, and on October 27, to coincide with the Clement Street Sunday Streets, the market will be extended by 2 blocks.
This Thursday at 9am, the SFMTA Division of Sustainable Streets will hold another hearing to consider extending the street closures on the two blocks of Clement Street that are required to hold the Farmer's Market. If approved, the Farmer's Market would be able to continue until June 22, 2014 when the SFMTA would once again evaluate the weekly event.
Given that the market is so popular with residents, why wouldn't it be approved to continue? The push back comes from some merchants who have seen a decline in business since the market started.
We've spoken to a few merchants since the market opened in June. All are in favor of the market and its community benefits, but they have also struggled to find ways to meet their revenue goals in spite of it. The lack of parking for their customers, decreased visibility for their storefronts, and competition from market vendors are the main reasons they have second thoughts about the weekly gathering.
Q Restaurant (225 Clement) has always enjoyed a brisk brunch business on Sundays. But since the market began, Sunday revenues are down. Q had their own taco stand at the market when it launched, positioned just outside their front door in hopes of raising awareness and attracting strollers in to the restaurant to dine. And while taco sales were swift, it did not translate to increased dine-in revenues. And with the market not closing down until 2pm, Q also misses much of its Sunday lunch crowd.
Sparky's Balloons (115 Clement) has seen a similar decline in sales as many party-throwers struggle to pick up their orders on Sunday mornings since they can no longer pull up to the store. And like most merchants along the two blocks of the market, Sparky's storefront is rendered nearly invisible by vendor tents. The produce market at 4th and Geary has complained that competition from the Farmer's Market has negatively affected their sales.
For as many merchants that complain, there are as many who are ecstatic about the farmer's market presence on Clement Street. Cumaica Coffee (200 Clement), on the corner between the two blocks of the market, is thriving on Sundays. So far, there are no drip coffee vendors in the market, so when shoppers are seeking a jolt, Cumaica is the go-to spot. Their new parklet also offers a popular gathering spot during the market's hours.
Seedstore Clothing (212 Clement) has seen a similar uptick in foot traffic. The store is routinely busy on Sundays, as shoppers wander in to check out their selection of men's and women's clothing. And four blocks away, Foggy Notion Boutique (275 6th Avenue) has enjoyed a surge in traffic, opening earlier on Sundays to take advantage of the Clement Street crowds. Their sandwich board placed near the Farmer's Market info booth helps drive awareness.
Thursday's hearing, which takes place at 9am at the SFMTA, will likely be a formality since the approval at question is only for another 6 months. If approved, the SFMTA would re-evaluate the market in June 2014, when they may consider a permanent approval for the required street closures.
Despite overwhelming support from residents for the market, including several thousand signatures gathered in favor of its continuance, the hearing will likely include negative feedback from some of the merchants whose businesses have been adversely affected since the market began in June.
Foggy Notion owner Alissa Anderson, a member of the Clement Street Merchants Association, is asking residents to come out to Thursday's meeting in support of the market, to ensure its future.
"It is super important for people to show up if they want the Farmers Market to continue. Regardless of how many signatures are provided in favor of it, at prior meetings a couple of business owners have shown up with negative reactions to it that have jeopardized the existence of it for things like complaints about lack of parking or competition. In-person physical support by neighbors and especially business owners is crucial to combat the naysayers and show that is truly benefits the majority of the local community," Anderson said.
Thursday's hearing will be held at the SFMTA, 1 South Van Ness, 7th Floor at 9am.
What do you think? Are you in favor of the Farmer's Market continuing? Are there changes you'd like to see made to the market's format or hours? Leave a comment to let us know.
UPDATE 10/24/13 12:25pm: The SFMTA approved the required street closures during the hearing, so the market will continue through June 2014 (when it will be re-evaluated).
Sarah B.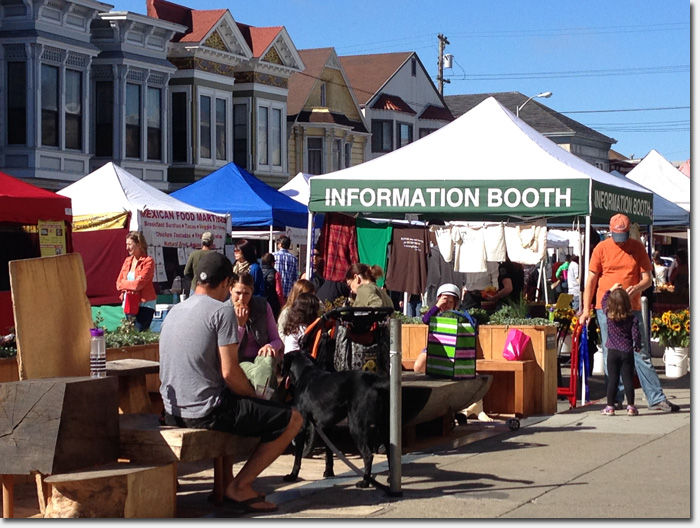 4:55 am | Posted under
Business
,
Community
|
46 comments