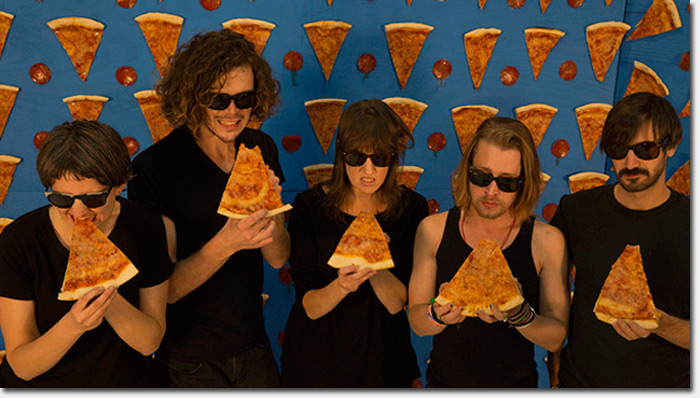 The Pizza Underground. Culkin is second from the right.
File this under "interesting conversation starters"… Home Alone star Macaulay Culkin will be playing at Clement Street's Neck of the Woods on March 5 with his band, The Pizza Underground.
The band's schtick is that they love all things to do with pizza, and make a show out of re-imagining classic tracks so that all the lyrics are about, you guessed it, pizza.
"All Tomorrow's Parties" becomes "All the Pizza Parties," Lou Reed's "Walk On the Wild Side" becomes "Take a Bite of the Wild Slice," "I'm Waiting for the Man" becomes "I'm Waiting for Delivery Man" and so on.
The band was originally scheduled for one show at Neck of the Woods, but after selling out, the club added an additional early show on March 5 at 6pm.
Tickets are available online ($10) and at the Neck of the Woods box office.
Just try to keep your Home Alone heckling to a minimum…
Sarah B.
5:02 am | Posted under
Live Music
|
5 comments