Here's a little puppy love for your Valentine's Day…
Reader and Richmond District resident Chelsey sent us a note earlier this week about some pups who are looking for a home:
The mom dog, Betty, was to be put down at a shelter in Modesto and the rescue group I volunteer for, Wonderdog, got her and the unborn litter out of there at the last second. She had her pups in my car on the bay bridge! Anyway, I am fostering them right here in the Richmond district and would love it if the pups stayed Richmond hounds.
Betty is a 25 lb beagle/lab mix and the puppies appear to be a Beagle/Pitbull/Lab mix and will likely be medium-to-large size when fully grown. You can check out the puppies in the video above, or in their photos on their Wonder Dog page.
There are five girls and three boys – Huxley is the lover boy of the group, Wednesday is small but big on personality, Waya has the softest coat, Dickens is very loyal, Miesha is the sweet kissy little sister, Mochi is sweet and goofy, Dolly is calm and caring, and Howl is the strong man of the group.
If you're interested in adopting the pups, you can apply through the Wonderdog website, which charges an adoption fee of $275 that includes their first set of shots, first vet exam, and spay/nueter.
The pups will also be on view at The Animal House this Saturday from 12-3pm, located at 157 Fillmore near Waller. Chelsey is also working on a future appearance for them at Pet's Corner on Geary and Arguello.
Let's see if we can keep all 8 of these babies right in the 'hood!

Sarah B.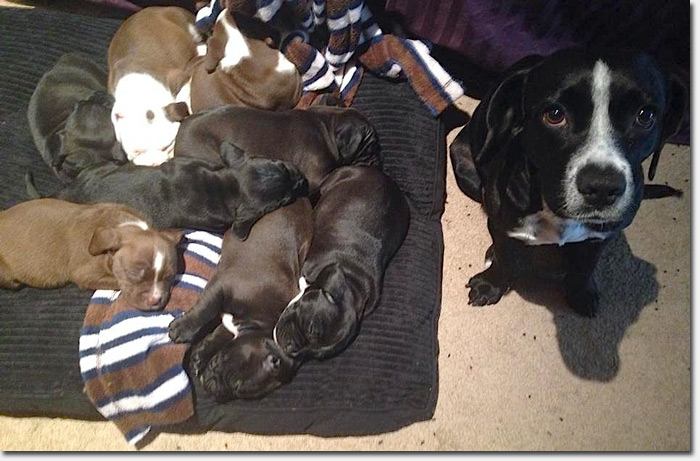 Mom Betty (R) with her eight pups which are available for adoption
4:15 am | Posted under
Pets
|
9 comments