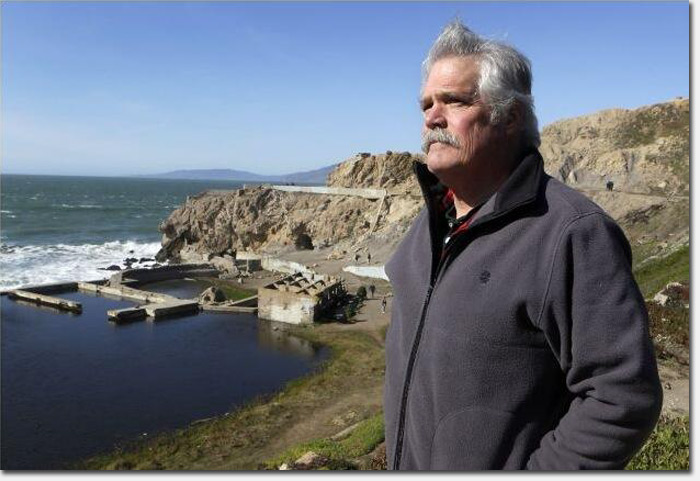 John Martini, author of a new book entitled "Sutro's Glass Palace". Photo by Paul Chinn
One of the things I enjoy most about our neighborhood is its history, especially diving into the stories and photos of former entertainment meccas like Playland and Sutro Baths. In the last several years, we've had a trio of documentaries about the Cliff House, Playland and Sutro Baths, along with books about the landmarks.
Recently, I added a new book to my collection – Sutro's Glass Palace by John Martini. Martini is a retired National Park Service Ranger, author and local historian, highly regarded for his knowledge of western San Francisco, most notably Lands End and Sutro Baths. If you ever go on a tour of those areas, be sure Martini is leading it.
Sutro's Glass Palace is a well-researched, highly readable look back on the history of Adolph Sutro's grand vision for the ultimate recreation destination in San Francisco. Built over 2 acres, Sutro Baths was as much of an engineering marvel as it was a place to have fun, and Martini's book does a good job as both a guide to the how and why behind Sutro Baths, and its place as a cultural and social icon in San Francisco history.
Adolph Sutro's original idea was to leverage the natural wave action of the Point Lobos cove to open a saltwater aquarium at the base of the cliffs. The aquarium was designed to bring in sea life from the waves that hit the shore, and trap it in a pool area where spectators could look upon it, ala a tide pool. Sutro debuted the aquarium in late 1887 but already in press interviews was hinting towards a grander vision for the shore area that would include baths.
Fast forward to May 1894, when the first visitors were allowed into Sutro's Glass Palace, which included a museum, restaurants, and 6 swimming pools complete with 517 private changing rooms. In an interview with the Chronicle, Sutro told a reporter "A small place would not satisfy me. I must have it large, pretentious, in keeping with the heights and the grand ocean itself".
At an estimated cost of half a million dollars and spread out over 2 acres, it's safe to say Sutro outdid even the grandest of Roman baths. Admission to Sutro Baths was 10 cents, and another 15 cents got you entry into the pools, plus a swimsuit, towel, and private changing room.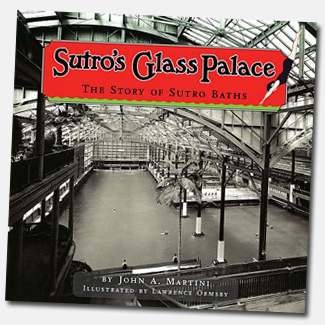 One of my favorite aspects of Martini's book is the "Tour of Sutro Baths" section, which includes rendered drawings that show what Sutro Baths would have looked like in its heyday. You get a clear sense of the grandeur of the multi-level palace and its layout. Combined with the entertaining photos from the turn of the century, you will find yourself quickly wishing the book came with a time machine.
Martini's book also touches on the many challenges that such a huge enterprise presented. Between the pounding waves that broke glass periodically, maintenance of the concrete pools and a completely separate boiler and laundry house, engineers had their hands full.
If Sutro Baths existed today, it would be a lawyer's dream. A brief section in the book entitled "Sutro in the News" compiles press clippings that detail accidents involving broken legs, slide collisions and divers hitting bottom, lawsuits brought against Sutro for negligence, and even a couple of deaths.
The baths were even a source of controversy around civil rights, when a young African-American man named John Harris tried twice to go swimming with his white friends in 1897, but was refused entry.
At the time, Sutro Baths Superintendent A.O. Harrison defended their actions to a local paper, saying "It would ruin our baths here because the white people would refuse to use them if the negroes were allowed equal privileges in that way. No one could in equity expect us to make such a sacrifice. I do not think such a case would ever be won against us." Turns out Harrison was wrong. Harris sued and won his case at trial.
Adolph Sutro died not long after the baths opened, and its management was handed off to his eldest daughter, Dr. Emma Sutro Merritt. She tried in vain to sell the establishment. Revenues were low as the baths struggled to attract patrons; it rarely broke even.
Finally in 1952, George Whitney, owner of Playland, bought Sutro Baths and made some changes including closing the baths for good, adding an ill-conceived Skytram ride, and restocking the museum with his own collection.
Sutro Baths closed for good in 1966, after 72 years in operation and shortly after, went down in a fiery blaze that fire officials attributed to arson. Plans for a condo development never came to fruition, and finally in 1980, the National Park Service bought the land for $5.5 million, ensuring its protection as part of the Golden Gate National Recreation Area.
Sutro's Glass Palace is a great read, full of interesting, rarely seen photos and visuals, along with a field guide that will make a great companion during your next trip to the ruins. The book is available at the Western Neighborhoods Project ($22.95), the Cliff House gift shop and at Green Apple Books ($22.95).
Sarah B.
5:04 am | Posted under
Events
,
History
|
5 comments