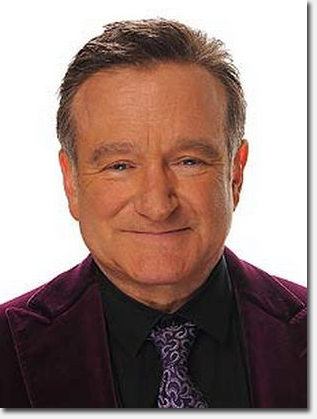 We're so saddened by the news of Robin Williams' passing today. There are too many remarkable moments from his career and life to try and list here, but we thought we'd highlight some of our personal and historic memories of him related to his time in the Richmond District.
Williams was well known for getting his start in San Francisco, most notably at the Holy City Zoo at 408 Clement Street (now Side Bar). Williams was known for using "the club as his neighborhood rehearsal space". When the club shuttered in 1984 (for the first time, it lived on until 1994 in a few different forms), the Chronicle wrote about its importance to Robin:
ROBIN WILLIAMS was there, of course, but didn't much want to talk about it. It was a highly personal moment. He did his earliest stand-up here, met his oldest friends here, met his wife here. This is where he learned his craft, and it was a sad, melancholy night on June 19, 1984. The Holy City Zoo, a legend among America's comedy clubs, the ultimate "comedian's hangout," folded after 13 years.
"I'm sad," said Robin. "We had wonderful times here, strange times here; this wasn't a haven, it was a game preserve. I remember a big black guy who'd come in with a baseball bat and say 'I'd like to audition.' But a lot of that is in the past. So many changes."
Robin was also known to perform consistently early in his career (and to pop by occasionally after becoming a star) at the annual Comedy in the Park event in Golden Gate Park. I'm sure they'll take time at this year's event on September 14 to remember him well.
He lived in Sea Cliff for many years in a pink, Mediterranean-style house on a corner that was a popular stop on Halloween. One year I noticed a huge line outside Robin's house as kids lined up to get their "treat" – a glow necklace. He was always generous on Halloween.
He was often seen around the neighborhood, usually on a bike. I spotted him once waiting outside Angelina's Cafe for his order, barely recognizable under a hat. Even after he moved to Marin, he was seen occasionally in the 'hood.
Another former resident, Cate Z., remembers her encounters with him fondly. "I used to see him walking his white Boxer in Seacliff. He always stopped and pet our big scary Rottweiler. Such a nice man and such a huge talent. He was a gentle soul."
Feel free to share your memories of Robin Williams in the comments. His vivacious spirit will be missed.
Sarah B.
P.S. – Some local comedians gathered at the former Holy City Zoo on Clement Street after the announcement of Robin's death.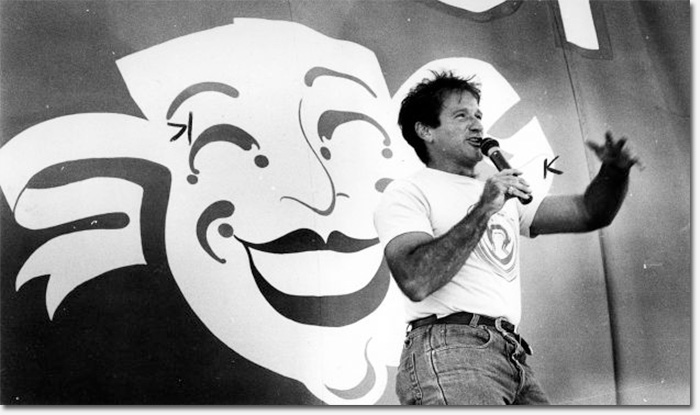 At Comedy in the Park, 1987. Photo: Deanne Fitzmaurice, The Chronicle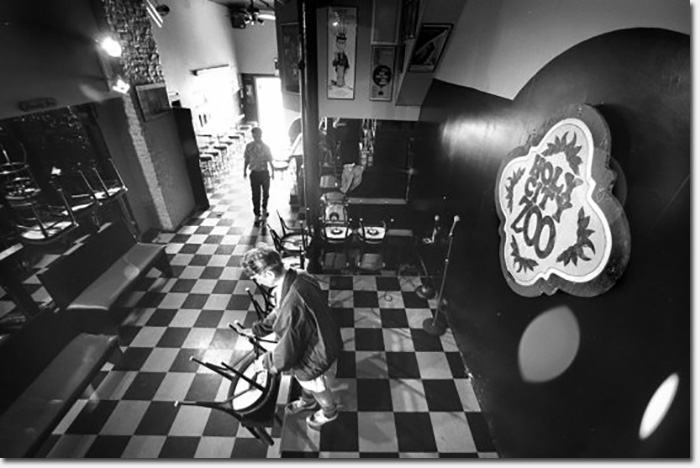 The Holy City Zoo just before its closing. Photo: Chris Stewart, The Chronicle
I once ran into Robin Williams at @GreenAppleBooks; he recommended a book I loved, and I always wanted to thank him. Dammit. Dammit. Dammit.

— Fawn Fitter (@fsquared) August 11, 2014
We are truly saddened by the loss of this hilarious man and great customer (he once dubbed us "book pimps.") http://t.co/jb33wZ7yhk

— Green Apple Books (@GreenAppleBooks) August 11, 2014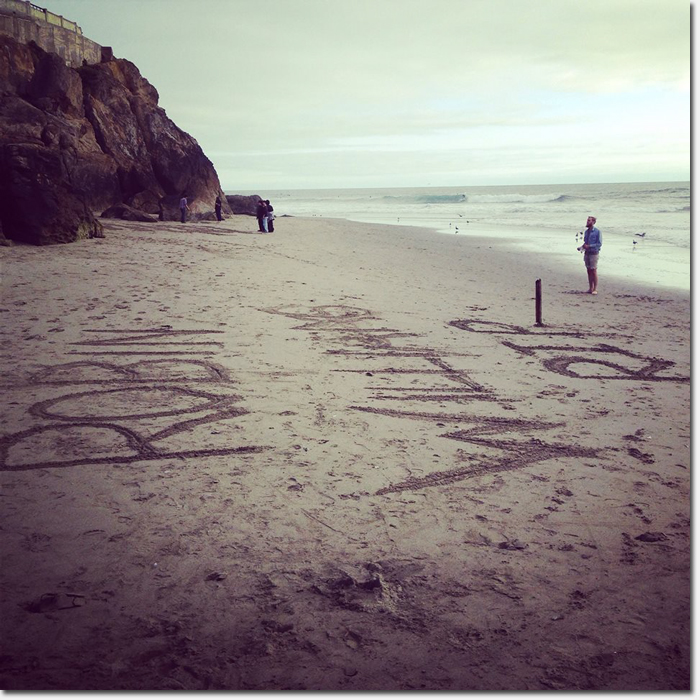 Ocean Beach, 8/11/14. Photo by Katie L.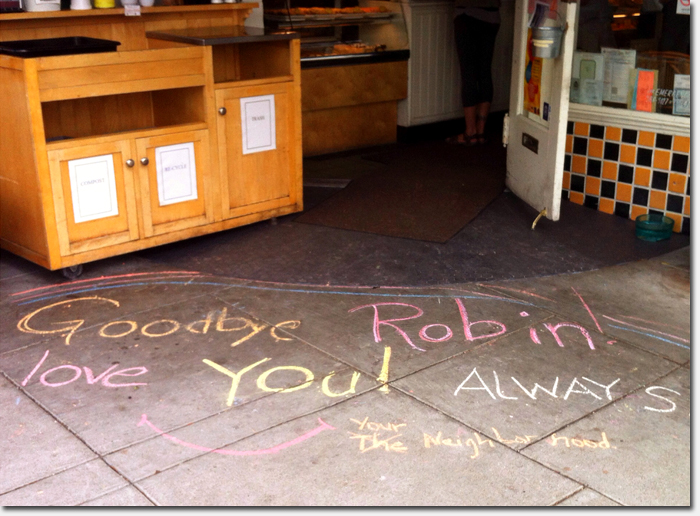 A chalk message outside Angelina's Cafe. Photo by Mike F.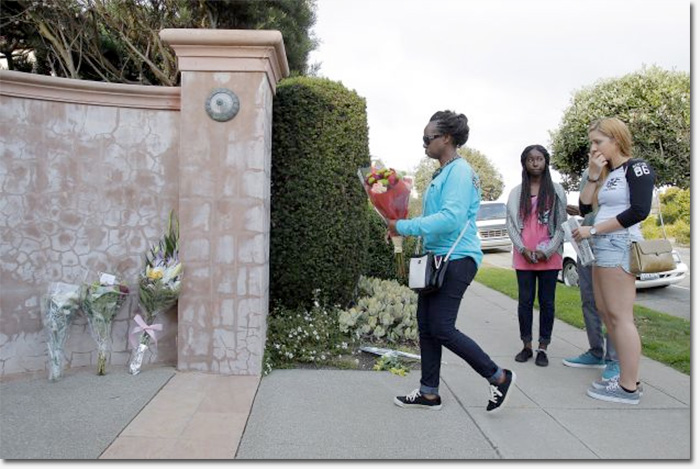 Mourners leave bouquets of flowers at Robin Williams' former home in Sea Cliff on Monday, August 11, 2014.
Photo by Carlos Avila Gonzalez, The Chronicle.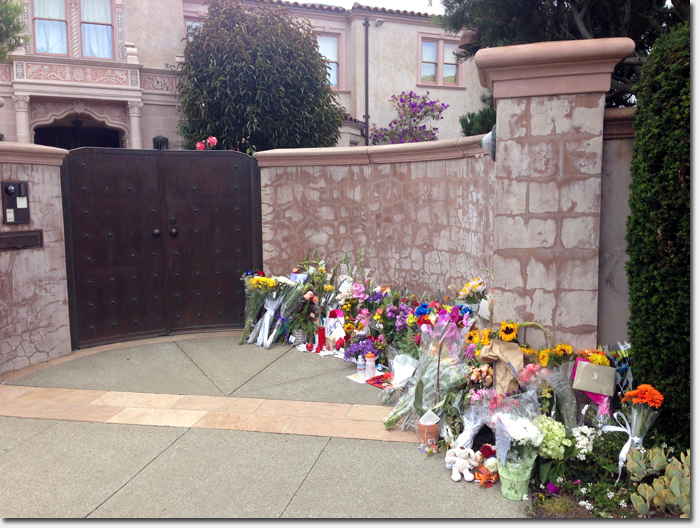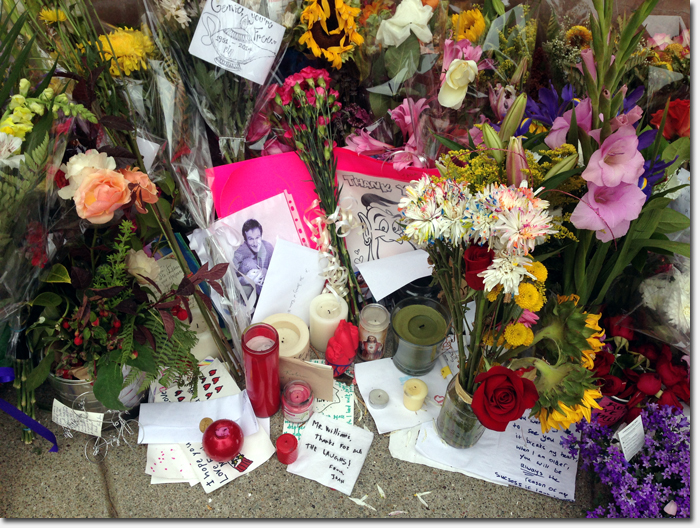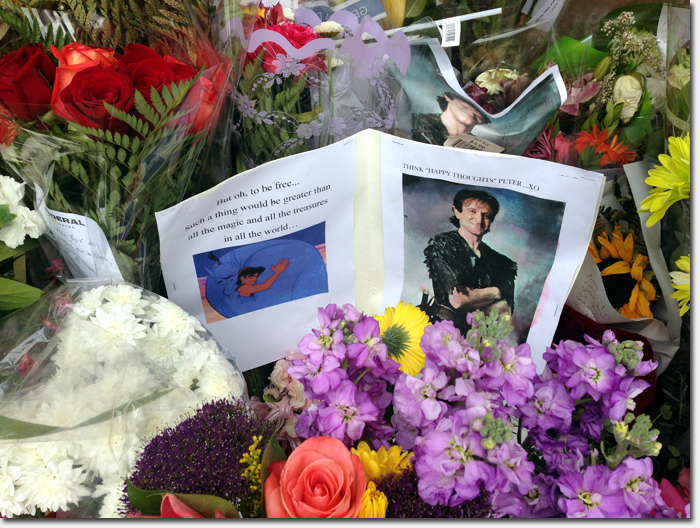 4:52 pm | Posted under
News
|
30 comments