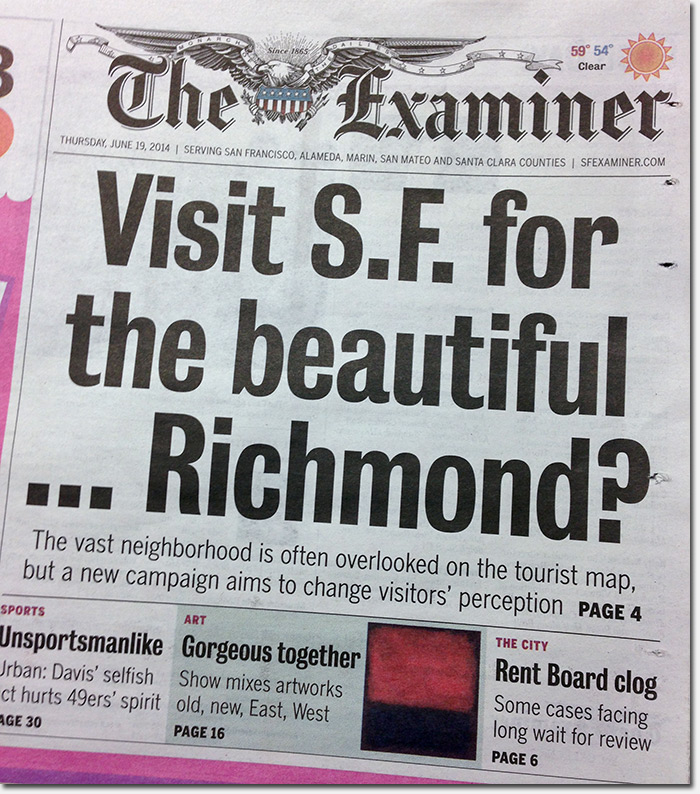 It's rare to see the Richmond District mentioned in local news, let alone on the front page of the paper. But that's what happened today when the Examiner published a story Visit SF for the beautiful … Richmond district?.
The story details an effort that is underway to attract more tourists to our northwest corner of the city. We don't get much of the tourist traffic or money according to the SF Travel Association. In a 2010 survey, they found that just 17.6% of tourists visit the Richmond or Sunset, compared to 65.2% who went to Union Square, 56% to Fisherman's Wharf and 38.4% to Chinatown.
They shouldn't be surprised at their own survey results, since their SF Travel website doesn't even include the Richmond District in their list of neighborhoods. Et tu, SF Travel?
But we all know that the Richmond District has great attractions for visitors including two world class museums, beautiful coastline and beaches, nearly every variety of cuisine imaginable, city landmarks and gorgeous parks.
According to the article, the "Neighborhood Partners Program — which awarded nine other grants to businesses or organizations in The City for 2014 to 2016 — will add shops, restaurants and other places in the Richmond to its online and print publications, and provide networking and mentoring opportunities for merchants."
A two-year grant for an undisclosed amount was given to the Greater Geary Boulevard Merchants and Property Owners Association, led by David Heller.
He told the Examiner that the money will be used for things like stringing lights along stretches of Geary, hanging banners to promote shops and destinations in the Richmond, and beautifying storefronts.
What would you do to attract more tourists to the neighborhood? When you have friends visiting, what do you encourage them to see and do in the neighborhood? Leave a comment to let us know.
Sarah B.
9:43 am | Posted under
News
|
32 comments