Word is spreading like wildfire among residents and merchants about a Richmond District Farmer's Market.
In a recent email to market supporters, aide Peter Lauterborn from Supervisor Eric Mar's office wrote, "We are at the point of nearing approval for a significant market entering the neighborhood!"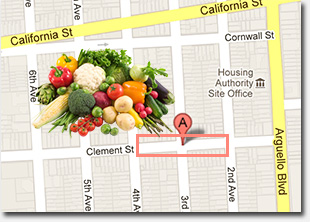 The proposed farmer's market would take place on Sunday mornings from 9am to 1 or 2pm, and would require closing the blocks of Clement Street between 2nd and 4th Avenues. The market would be run by the Agricultural Institute of Marin (AIM), which currently runs other markets at Stonestown, Civic Center, and in other Bay Area locations.
According to Lauterborn, the Clement Street farmer's market will feature a wide range of local products, including eggs, milk, cheeses, meats, plus children activities, live music, and bouncy houses. The market will also provide matching dollars for "food stamp" users, and additional bike parking.
Lauterborn states that "the parking loss should be a non-issue" on Sunday mornings, and that they are "planning outreach to all of the existing produce merchants along Clement" with the help of AIM, who has hired a Cantonese speaker to assist. He says "so far, the merchant support has been excellent".
To ensure that the market gets off the ground, Lauterborn is asking the community to show their support by either writing a letter of support to the SFMTA (who will need to approve the street closures on Clement), or attending a public meeting on May 20.
If you'd like to write a letter of support, send it to Peter.Lauterborn@sfgov.org and be sure to explicitly mention your support for the street closure on Sunday mornings on Clement between 2nd and 4th Avenues.
A community meeting will also be held on May 20 from 5:30pm-6:30pm at the Richmond District Police Station, which is located on 6th Avenue between Geary and Anza.
Lauterborn says they're targeting Sunday, June 9 for the opening, pending approval by the SFMTA for the street closure during their May 23 meeting. The approval would be for an initial 6 week trial run of the Sunday market.
UPDATE 5/22/13: Lauterborn commented that "The MTA had an internal hiccup, so the hearing will be on June 13 rather than May 23, pushing back the opening to (likely) June 23."
Are you all excited by this news? Leave a comment to let us know.
Sarah B.
1:59 pm | Posted under
Eric Mar
,
Events
,
Shopping
|
64 comments