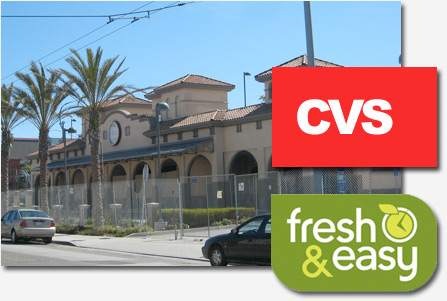 Co-tenants CVS Pharmacy and Fresh & Easy Neighborhood Market are both moving forward with their plans to occupy the 36,500 square foot retail space at 3132 Clement and 32nd Avenue.
On December 2, CVS Pharmacy is scheduled to appear at the regularly scheduled Planning Commission hearing (City Hall, Room 400) with their application for operation.
After receiving feedback at two community meetings earlier this year, CVS plans to ask for the following conditions in the documents they are filing with the Planning Department:
Hours of Operations from 7am until 10pm
Delivery hours limited to after 8am
CVS will not pursue permission to sell hard liquor at this location. CVS will pursue permission to sell beer and wine only. Per CVS company-wide policy, CVS does not sell malt liquor, singles or other nuisance alcohol.
To give your opinion to the Planning Commissioners about the project (positive or negative), email the Planning Department staff member handling this project at rick.crawford@sfgov.org.
In anticipation of their opening in early 2011, Fresh & Easy is now accepting applications for open positions. Job-seekers can apply on the Fresh & Easy website at http://www.freshandeasy.com/joinus.
The 32nd & Clement store will be Fresh & Easy's first location in San Francisco proper, and will employ 20 to 25 people. Entry-level positions start at $10 an hour and the company also offers extra perks like quarterly bonuses of up to 10% and a 401(k) with company match.
"With every store we open we bring more good paying jobs with comprehensive benefits to the neighborhood," said Fresh & Easy CEO Tim Mason. "We're thrilled to hire our first employees in Northern California and to bring fresh, wholesome food at affordable prices to new neighborhoods in the area next year."
Sarah B.