Within the last couple of years, neighborhood schools like Lafayette, Presidio and Argonne opened up their schoolyards to cars looking for parking at large events in the area like the Outside Lands and Hardly Strictly Bluegrass music festivals. Schools typically charge $25 per day for the day, and in the process, they raised thousands of dollars for their school programs.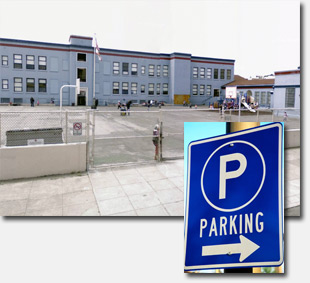 Last October, someone down at City Hall heard about these enterprising PTA's and sent the tax man a callin'.
The Treasurer and Tax Collector's Office of San Francisco demanded their cut – 25% of the profits made during the parking fundraisers. That's a substantial slice – as much as $1,750 a day – of the money that schools typically raise during the events.
Back in October, Treasurer's office spokesman Greg Kato told the Examiner that the law to collect tax on parking structures had been on the books for a while and "applies to every parking operation, from downtown garages to dirt lots near the ballpark."
The issue was fuzzy, since the law technically applied to for-profit parking operations, not for fundraising events like the schools were running. And the idea of the SFMTA – who would ultimately benefit from the collection of these taxes – taking money from schools didn't sit well with school parents and residents.
"Let the schools keep the money, you greedy bunch of SCOUNDRELS!!" wrote on commenter on the blog.
Others saw the school's efforts as a way to make ends meet for the already cash-strapped schools. "These are volunteers running a fundraiser to provide the much needed funds to San Francisco public schools. They are helping to bridge the gap created by the huge budget cuts. They should not be taxed!!" wrote another commenter.
Thankfully this is one story that has a happy ending. It took a year but something has finally been put in place to ensure that the schools can keep all of their profits from their parking fundraisers, which have continued on despite the tax threat.
Late last week, an ordinance was signed exempting parking lot fundraisers from being taxed by the City. Supervisor Mar, Mayor Lee, and Treasurer Jose Cisneros worked for the last year with 2nd District PTA President Michelle Parker, and parents from Lafayette, Jefferson, Presidio and Argonne schools to craft the legislation.
The ordinance is retroactive, so all the money that schools have earned to date on their parking fundraisers is exempt.
Next up is the Hardly Strictly Bluegrass festival the weekend of October 5, so expect the parking lots at local schools to be primed for the influx of visitors. It's nice to know they'll get to keep every penny of what they take in to fund their programs.
Sarah B.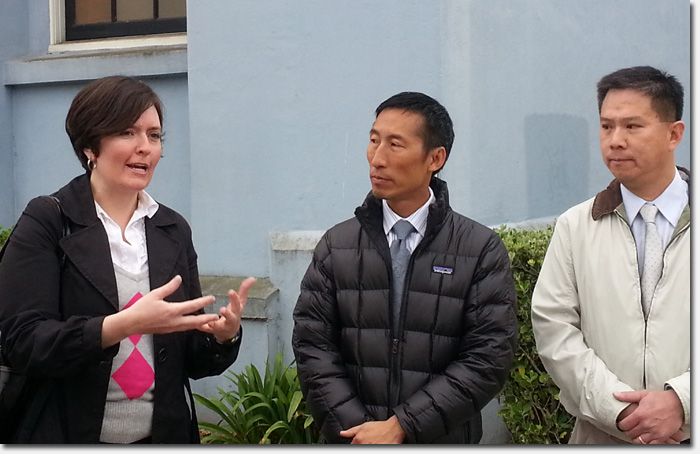 PTA President Michelle Parker, Supervisor Eric Mar, and Lafayette parent Edmund Lee at a
Sept. 13 press conference about the ordinance exempting parking lot fundraisers
5:12 am | Posted under
Eric Mar
,
Schools
|
1 comment