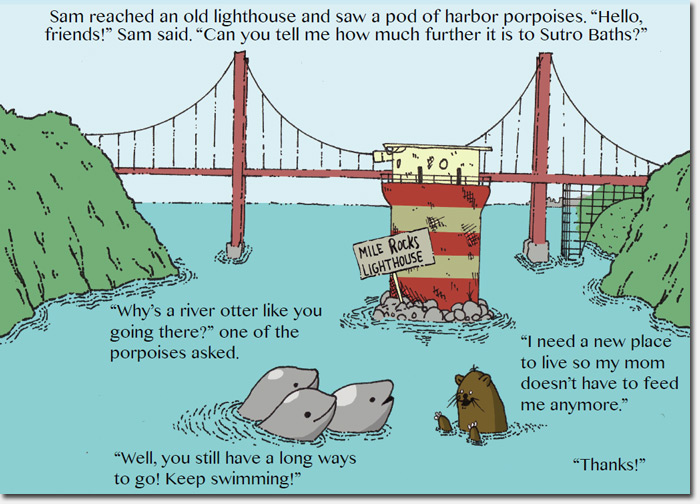 A page from "The Legend of Sutro Sam" by Emily Beitiks, illustration by Pete Glanting.
Ever since he showed up in the ruins of Sutro Baths last October, "Sutro Sam" the river otter has caused quite a stir. He's a local celebrity and even has his own Twitter account.
Now he's the main character in a new children's e-book entitled "The Legend of Sutro Sam", authored by Richmond District resident Emily Beitiks.
The e-book, which sells for $1.99 on iTunes, is pretty adorable. It's got all the best components of a children's book – family, a daunting journey, new friendships, life lessons and a happy ending.
In the book, Sam begins his journey from the river to Sutro Baths after hearing a bedtime story from his grandfather, who tells him "Far away from here, beyond a great red bridge, is a glass palace on the ocean…"
The 24 page book is well illustrated by San Franciscan Pete Glanting, and features lots of local landmarks and animals that Sam meets along his journey and at the ruins after he arrives.
Beitiks wrote the book while she was on maternity leave and Sam began getting notoriety for his antics at the baths.
"That new life was suddenly inhabiting the area was exciting. As Sam dove for fish and waddled on the crumbled concrete, I started to think about how he managed to end up at Sutro Baths. It's believed he swam from Marin, which seems like such a long and interesting journey for a young river otter," Beitiks says on her website.
The Legend of Sutro Sam is available for download on an iPad with iBooks or on a computer with iTunes. If you've got a young one in your house who has taken an interest in Sutro Sam, this book will make for a fun bedtime story.
Sarah B.
5:10 am | Posted under
Wildlife
|
7 comments