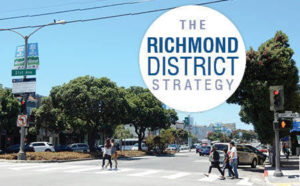 We're written a couple of times here on the blog about the Richmond District Strategy project. Spearheaded by the San Francisco Planning Commission and Supervisor Eric Mar, the project's goal is to "create a vision for the future of District 1 to ensure a sustainable and high quality of life for current and future generations who live, work and visit District 1."
In September 2015, the public part of the project kicked off with the publication of the Existing Conditions Report, which analyzed existing data to learn about the current trends and conditions in the neighborhood.
In October 2015, the project distributed a survey to ask the District 1 population (residents and workers) about their needs in the neighborhood with regards to housing, businesses, public facilities, public transportation, parks and more. The bulk of the survey focused on housing needs, and assessing residents' desires for different development types and affordability levels.
The results from that Community Needs Assessment Survey were published in August 2016 – download them here or read our article summarizing the findings.
December 10 Public Meeting
On Saturday, December 10 from 1:30pm to 3:00pm, the project will host a public meeting at the Richmond District Library (351 9th Avenue) as part of their outreach to "seek feedback on our findings, establish community goals, and identify priorities" with the community.
"As a tenant, senior, immigrant, person of color, or member of a lower income household or family with children, we especially encourage you to participate to tell us your needs and vision for the future," wrote Candace SooHoo, a San Francisco Deputy Communications Manager, in an email we received about the event.
From the public meetings, the project plans to establish goals and priorities which will then be used as a foundation for a series of solutions, policies, and funding priorities for the neighborhood.
For more information on the December 10 meeting, please email victoria.chong@sfgov.org. The project also welcomes the opportunity to attend other neighborhood group meetings and events. Please contact victoria.chong@sfgov.org if you'd like the project to come to a meeting at your neighborhood group, community organization, parent teacher association, or gathering.
Sarah B.