If you're planning to head north across the Golden Gate Bridge late Saturday night or early Sunday morning, be advised that the Park Presidio/Highway 1 northbound approach will be closed from Friday, June 18 at 10pm until 11am the next morning, Saturday, June 19. The closure will begin at Lake Street.
The closure is due to the ongoing Presidio Parkway construction. The overnight closure is necessary to temporarily shift northbound traffic to the former southbound lanes of the Ruckman Bridge to allow work to begin on the permanent replacement bridge (see photo diagram below).
If you do need to head north on Highway 101 during the closure, you'll need to approach the bridge through the Arguello, 15th Avenue or 25th Avenue Presidio gates. After navigating through the Presidio to the bridge, you can get on at the toll plaza on-ramp. View official detour routes
Sarah B.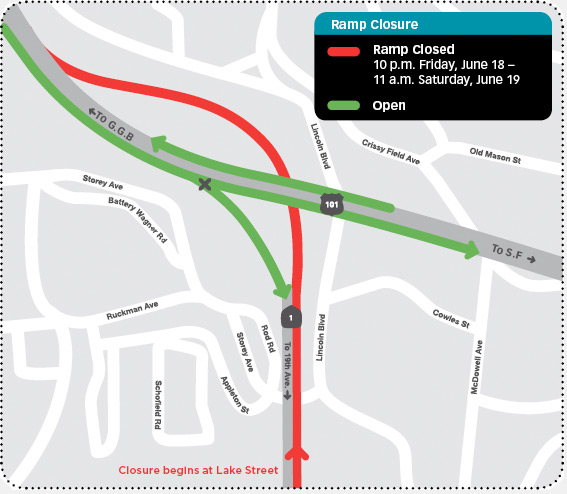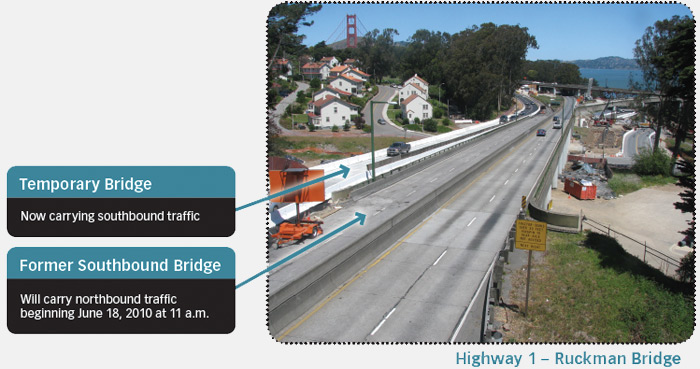 8:51 am | Posted under
Traffic
|
4 comments