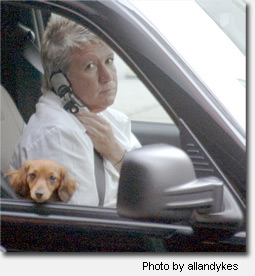 The Examiner reports today that our local fuzz has been cracking down on chatty motorists.
Richmond officers also have given out hundreds of tickets this year to chatty motorists, more than anywhere else in The City, according to police station Capt. Richard Corriea. Already in 2010, Richmond police have given out 282 tickets for talking while driving, compared to 1,388 citywide.
Most of the focus has been on the major thoroughfares in the district such as Park Presidio Boulevard and Fulton Avenue. The stretch on Fulton between 10th and 25th Avenues is considered one of the most dangerous.
Bicyclists are not exempt either. Captain Correia said they will warn or cite bicyclists who don't follow traffic laws.
So be careful driving around the neighborhood while talking on your cell phone. Do yourself and your fellow drivers a favor and invest in a headset or better yet, pull over to make that call or send that incredibly important text message.
Sarah B.
2:19 pm | Posted under
Crime
,
Traffic
|
4 comments