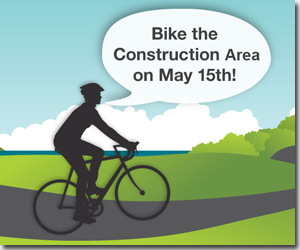 Curious about how the new Presidio Parkway project is coming along? Want to get your fill of rebar, concrete and construction planning?
Then head to the Presidio on May 15 for a special bike tour of the Presidio Parkway construction area where you can learn the best bike routes during construction and get a sneak peak at the future trail network.
There's also an afterparty at the Sports Basement near Crissy Field. Free food (pizza from Pizzeria Avellino – yum!) and drinks plus ride participants get 20% off all Sports Basement purchases that day.
The ride lasts from 10am to 12noon and meets at the Sports Basement in the Presidio, 610 Old Mason Street.
And a reminder for you Presidio cyclists and walkers out there: Lincoln Boulevard will be closed in front of the National Cemetery (between McDowell Avenue and Montgomery Street) from mid/late May 2010 until late 2011. More info
Sarah B.
7:10 am | Posted under
Events
,
Recreation
,
Traffic
|
Comments Off