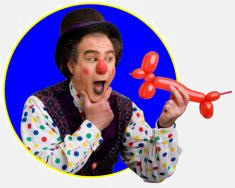 On Thursday, June 17 at 2pm, bring your kids by the Richmond Branch library to enjoy the magic, juggling and comedic antics of Boswick the Clown, a former Ringling Brothers circus clown.
And on Monday, June 21 at 2pm, the Bubble Lady will be at the Library for some bubblicious adventures in Bubble Land. Tons of bubble fun for everyone!
Both events are free and take place at the Senator Milton Marks/Richmond Branch Library, 351 Ninth Avenue. For more information, call 355-5600.
Sarah B.
7:47 am | Posted under
Events
,
Kids
|
2 comments