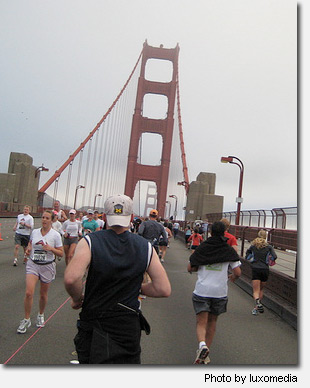 The San Francisco Marathon will roll through town this Sunday. Here's a heads up on some of the traffic impacts the race will have on our neighborhood. Visit their website for all SF traffic advisories on race day.
The Golden Gate Bridge, Doyle Drive and nearby parking areas will also be affected, so if you plan to head to Marin on Sunday morning, you may want to change your plans to the afternoon.
Best places to watch the race in the Richmond? Along 26th & 27th Avenues between Lake and Fulton, just inside the Presidio at 25th Avenue, or throughout Golden Gate Park. See the course maps
TRAFFIC ADVISORIES:
Richmond District (6:00 a.m. to 10:00 a.m.)
26th and 27th Avenues from Fulton Street to Lake Street closed to through traffic. Cross on Clement, Geary, Anza or Balboa – expect significant delays.
Sunset/Richmond Districts (6:00 a.m. to 11:30 a.m.)
North and south access through Golden Gate Park should use Great Highway, Kezar, or 19th Avenue/Park Presidio – expect significant delays.
Presidio/GGNRA (12:00 am to 10:00 am)
From midnight to 10am, there will be no access to the Golden Gate Bridge through the Presidio.
Good luck to all the racers!
Sarah B.
6:21 am | Posted under
Events
,
Traffic
|
4 comments