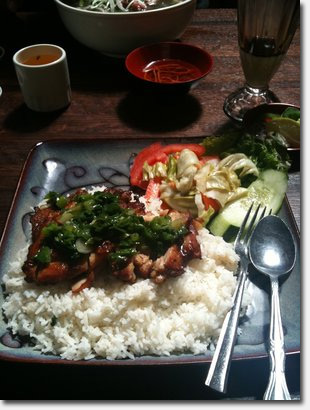 Last week, SF Examiner food critic Patricia Unterman gave high marks to Quan Bac, a Vietnamese restaurant located at
4112 Geary Boulevard between 5th and 6th Avenues.
Quan Bac was opened by by owner and head chef, Sarah Le, who has other small pho spots in the city. But Unterman says Quan Bac is Le's "defining moment as a businesswoman and a chef."
She devotes the first two paragraphs just to describing Le's Vietnamese chicken salad, which she calls "one of the culinary masterpieces of San Francisco."
Imagine a multicolored haystack mounded high on a white plate, the pale green of slivered cabbage, the orange of carrots, the pink of red onion, the beige of grilled chicken, interwoven with dark-green threads of kaffir lime leaf, cilantro and basil.
Unterman also praises Quan Bac's lotus-root and jellyfish salad and says that the restaurant's food is as authentic as any she has eaten on the "low plastic stools on the sidewalks of Hanoi."
One of Quan Bac's pork dishes got Unterman very excited:
Le's Bun Cha Ha Noi ($8.95)… This bowl of juicy little charcoal-grilled pork patties, so moist and fragrant, and thin slices of charcoal-grilled pork chop comes with the same setup as the crepe, but with cold, rice vermicelli topped with chopped peanuts.
The pork, hot off the grill, is splashed with dipping sauce, which migrates to the bottom of the bowl and picks up the meat juices. Be sure to spoon this rich sauce into your lettuce rolls.
Read the full review at sfexaminer.com
Quan Bac is open daily from 10:30am to 10pm with dish prices ranging from $6.95 to $14.95. Unterman's top recommendations: Pho ga, cha gio, Vietnamese crepe, chicken salad, lotus-root salad, fish cake, Vietnamese barbecue chicken.
Have you tried Quan Bac? Leave your review in the comments.
Sarah B.
10:15 am | Posted under
Food
|
Comments Off