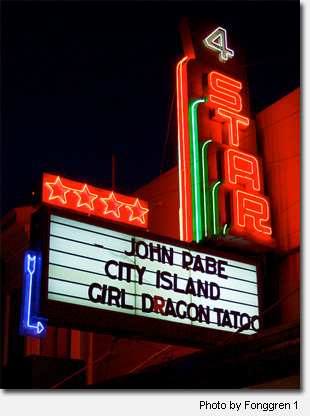 If you live in the 94121 zip code, your nearby 4-Star Theater has a special offer for you.
In honor of their 18th year in the Richmond District, the theater is offering discounted admission to neighbors that share its zip code. Show a valid photo ID with a 94121 zip code on it and you'll be admitted to any screening for just $5.00. The discounted admission also extends to one guest.
The offer is valid for any shows, but not for special screenings and events (like the "Future of Food" event tomorrow night).
The 4-Star's newsletter says the offer is valid only for a limited time. I'm not sure how long that actually is, but if there's a show you've been meaning to see, go now with a friend and save some $$.

Opening this Friday at the 4-Star (trailers down below):
The documentray LAST TRAIN HOME directed by Lixin Fan which records the event of 130 million migrant workers traveling back to their home villages for the New Year's holiday in China.
JACK GOES BOATING directed by and starring Philip Seymour Hoffman. His directorial debut is based on the play of the same name by Bob Glaudini and is an unconventional romantic comedy set in the midst of working-class New York City life.
The experimental film HOWL which explores both the Six Gallery debut and the 1957 obscenity trial of 20th century American poet Allen Ginsberg's noted poem, "Howl".
Happy 18th birthday to the 4-Star!
Sarah B.
7:04 pm | Posted under
Movies
|
1 comment