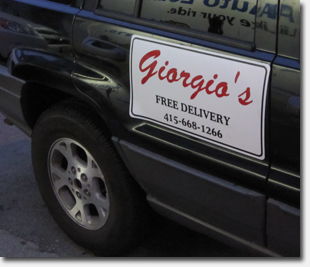 While walking to Giorgio's tonight I stopped cold in the crosswalk when I spotted a truck out front with a Giorgio's logo and "FREE DELIVERY" printed on the side. Say what?
Turns out that after 38 years in business, the family pizzeria is finally giving into customer demand, offering free delivery every night from 5pm until 9pm. They announced the new delivery service back in mid-June.
There's a minimum order of $20 and the delivery territory runs from Divisadero out to Ocean Beach, north of Golden Gate Park (yes, that includes the ENTIRE Richmond District!).
You can check out the full Giorgio's menu on their website; call 668-1266 for delivery.
Mmmmmmmm…
Sarah B.
10:01 pm | Posted under
Food
|
7 comments