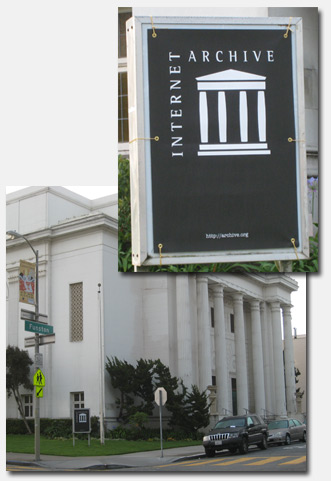 Last month, the Society for Scholarly Publishing (SSP) took a field trip to the Internet Archive, the non-profit that took over the large church at Funston and Clement earlier this year. The Internet Archive, located online at archive.org, is a non-profit that was founded in 1996 for the purpose of creating an Internet library. Their goal is to offer permanent access for researchers, historians, scholars, people with disabilities, and the general public to historical collections that exist in digital format.
If you're curious about what the Internet Archive does and how they're making use of their new churchly space, you'll find the SSP account of their field trip to be interesting.
The next stop on the tour was "The Library," the former sanctuary of the church… [Internet Archive founder Brewster] Kahle explained that they plan to make some changes to the space, like leveling the slanted floor, to turn it into some sort of yet-to-be-defined 21st Century "reading room," combining physical presence and ubiquitous information. In the meantime they will use the lovely room and all its pews to present lectures and show films, presumably of neat materials uncovered in the archiving process.
Our group then crammed into a crowded room in the building next door — the scanning center. One of a number of scanning centers located in five countries, the long narrow room was lined with perhaps 20 stations that looked a little like curtained photo booths.
Kahle seems unfazed by the enormity of Internet Archive's mission of "universal access to all knowledge." Any content type the group asked about, it seemed, they have plans to ingest. They have begun to scan current books (those in print and in copyright). Once a book is scanned it is converted into multiple formats: Daisy, ePub, Mobi, PDF, and B&W PDF for POD, among them.
Read the full story at the SSP website
Sarah B.
10:54 am | Posted under
Business
|
1 comment