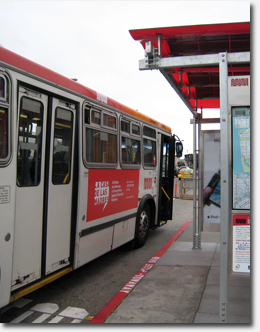 As the Examiner reports, the SFMTA will restore many of the service cuts they made back in May in an effort to save $28.8 million annually.
The service cuts didn't go over well, with riders citing longer waits and massively overcrowded buses. As a result, the SFMTA managed to pull together enough funds to restore service on some of the busier lines during peak times.
Service improvements to lines in the Richmond District include adding more buses to the 1-California and 5-Fulton lines to reduce weekday crowding, and increasing frequency at night along the 31-Balboa line.
The Examiner reports that the SFMTA is "set on bringing back 61 percent of its cut service Saturday, but the agency is working with Mayor Gavin Newsom and members of the Board of Supervisors to develop a plan to eventually restore all recent reductions."
Sarah B.
9:57 am | Posted under
Muni
|
3 comments